I first learned of VTech's V.Flash console in late 2006. Shortly thereafter, I purchased a game to be played on the system so that I could study the optical format and understand the data formats therein (it's a weird hobby of mine).
Eventually, I found a new in box V.Flash console for relatively cheap and snatched it up. It arrived but I never got around to opening it at the time. I have accumulated several more games for the system in the meantime. I got it down from a shelf today: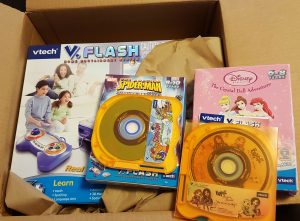 Click for larger image
I thought it had only been 6 or 7 years since I bought the system. Turns out that it was almost 9 years ago that I picked it up:

I checked my Amazon order records for more details– turns out that I only paid about US$26 for it. I guess I snagged it during what is called "the trough of no/low value" because when I look it up now, asking prices for an NIB unit are substantially higher.
Surprisingly, there are no YouTube unboxing videos for this thing. So I guess it falls to me. Unboxing videos aren't really my thing. Instead, please accept this series of photos documenting various aspects of the unit and its packaging. There is a lot to cover.