A long time ago, I acquired a set of 6 DOS shareware CD-ROMs from a company called White Wolf Software: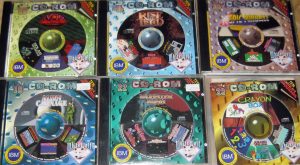 Click for larger image
Eventually, I wondered if I could find some more and I purchased a lot of them on eBay that contained 16 more. At first, I thought maybe they were periodical, but I noticed that they were all published in 1995. Each disc contains 10 different shareware titles. According to the above photo, they used to ask a fairly high price (US$13). It's unlikely that these discs have any software that isn't represented elsewhere on the Archive. I think the most interesting thing about these discs is the amount of graphic design effort that went into the cover art. Also, pay particular attention to the cover of #29: Commander Keen IV— I strongly suspect that the youngster represented on the cover was the child of someone involved in the production of the disc series.
At long last, I finally got around to extracting the ISO-9660 filesystems, scanning all the cover art artifacts, and uploading them to the Internet Archive. If you are interested, click through the link to see which 10 programs are on each CD-ROM. I spent a lot of effort to document the contents of each distro, linking to MobyGames when the program is a game that is represented in the database.
Also, the reason I had put off the final uploading was because I still needed to scan all of the cover art artifacts (CD-ROMs and jewel case matter), and then straighten and crop each scan. This latter step is the most tedious. I finally got around to creating a new tool specifically to accelerate this process called MobyCAIRO. Hopefully, it will help reduce the friction for future submissions.
Including the Series 3 disc already on the Archive, there are 23 discs of the series uploaded. There are at least 36 total.
Other Items
A few other items I have tossed up on the archive recently: