I recently unloaded a large swath of my personal video game collection. I gave the items to friends and to video game museums, free of charge. As is my custom, I took photos of everything I gave away, just for sentimental effect. I thought I'd post the photos in order to give readers ample opportunity to exclaim "OMG! You should have tried to sell whatever presumably rare item on eBay for hundreds of dollars!" It's out of my hands now. Don't worry, though. I didn't give away all of my video games yet. I basically got rid of everything that's not on optical media. Here is my complete game collection and I still have around 700 DOS/Windows games.
Click on any image for a much higher resolution photograph.
NES Console Lot
Official NES top loader: The SNES-style NES control deck; it still has the $99.95 price tag on it which is what I paid for it used. Hey, it was worth it. I bought it in (I think) 2002 and the thing was far more reliable than any standard front-loaders that I still owned at the time (all since discarded).
RetroUSB's NES PowerPak: I was one of the first people to buy one of these. It took me about 3 years to finally get around to trying to use it and I couldn't make it work. I didn't try very hard, though, and I didn't care enough to try harder. I hope the new owner has better luck.
2 new style controllers; 1 old style controller
1 Light Zapper Gun (in the original grey styling; purchased 1989)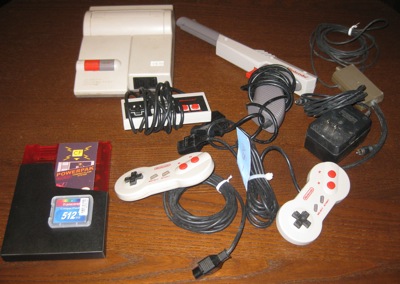 NES Cartridge Lot #1
Dragon Warrior II is certainly the most valuable of this lot.
The Adventures of Lolo III
Air Fortress
Alien Syndrome
Arkista's Ring
Batman
Batman: Return of the Joker
Battletoads
Bee-52
Blaster Master
A Boy and His Blob
Captain Skyhawk
Castlevania III: Dracula's Curse
The Chessmaster

Crystalis
Deja Vu
Desert Commander
Double Dragon
Double Dragon II
Double Dragon III
Dragon Spirit
Duck Tales
Dragon Warrior II
Dr. Mario
Faria
Faxanadu