More TAS capsules! Let's go…
First, let's do Prince of Persia, the NES version. I think I've seen this particular TAS at least 3 times but for some reason, I didn't capture a series of screenshots. I know I've seen this play out entirely too many times. I remember playing the DOS version of the game a long time ago and I think I even made it out of the dungeon. It may have been groundbreaking at the time, and perhaps even offer some fascinating, puzzling, and challenging gameplay to this day. But you have to admit that it's boring to watch even the speedrun and dull to perform the capture chore since so many places in the game all look the same.
Still, I managed to capture this frame of animation which makes it look like the prince has to go potty really bad: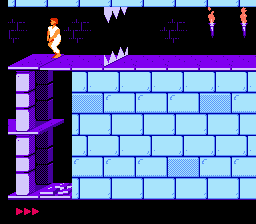 From there, I moved on to Nosferatu for the SNES. Any description you can find of this game (save perhaps for its own box copy) will immediately peg it as a brazen Prince of Persia ripoff. Which it is, make no mistake. However, it's a good deal more interesting to watch than the original PoP game. For starters, the hero is 100% badass as he takes down werewolves, Frankenstein monsters, zombies, mummies, and eventually Dracula himself, all with his fists (and feet of fury).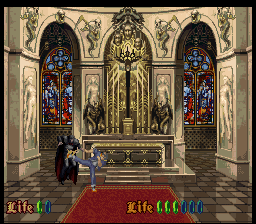 The graphics are significantly more appealing than in PoP. Everything in the castle gets into the act of trying to get the hero– the books in the library fly out at you and even the artwork comes to life and take you down. The only gripe I had with the graphics were that a number of outdoor scenes (where boss battles usually took place) did not make use of the parallax scrolling so commonly found in the 16-bit era. I would have to review the SNES internal technical documents again (my second favorite behind the NES) but I think these scenes might be using a graphical mode that only allows one plane due to a higher resolution or higher number of colors.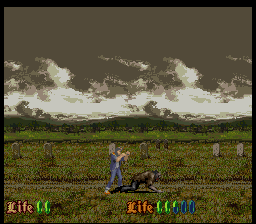 It should be noted that Dracula really dropped the ball as a manager when he promoted the zombie in the above screenshot to miniboss. I don't think he was really up to the task. Every time the hero lands a hit, the zombie keels over and visibly vomits.
Journey to Silius (NES) brings back a lot of memories since I remember working hard to beat the game. Thankfully, the TAS demonstrates that the graphics and gameplay were diverse enough over its stages that it's not an embarrassment to remember playing through the whole thing back in the day.
The most curious thing that stuck out at me based on the speedrun was that, according to the wanted posters in the background of level 1, there is a fugitive penguin on the loose: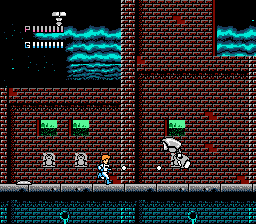 I remember thinking that Wrath of the Black Manta (NES) was pretty lame back in the day, and that was before I really took the time to think through the things that are being presented to me in video games. Wrath has the eponymous ninja trotting the globe from New York City to Tokyo to Rio de Janeiro and back to New York City in order to bust up a drug ring and also get to the bottom of some kidnappings. The game would have us believe that a kidnapping victim had time to leave a detailed note about the kidnapping at the scene of the crime before he was abducted: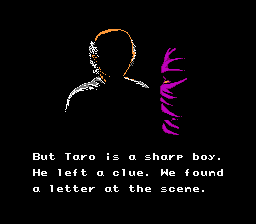 Also, the ninjas in this game can fly simply by attaching a sheet to their wrists and ankles. They remind me of cartoonish flying squirrels: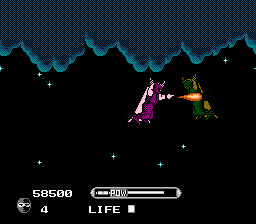 The final game from this set is the venerable Gradius (NES). If you've never taken the time to watch a TAS, this is a good time to start. Go to this Gradius TAS page and watch one of the video versions linked. As the page description notes, "This is probably one of the best illustrations on how to create art out of a simplistic and otherwise uninteresting game to watch." It's exhilarating and a static screenshot doesn't begin to do it justice, but when has that ever stopped me? Here are the iconic Easter Island space heads from the series: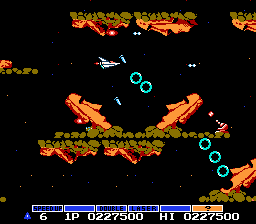 See Also:
At MobyGames: