Gender Wars is another game that doesn't strictly need any MobyGames data from me. But it's a game I haven't yet experienced. And what game could be more appropriate on Valentine's Day? This is another game from the eBay 50-lot grab bag and came with no manual when I received it.
Executing the game launches into what is intended to be an academic point/counterpoint historical discussion about how the great Gender War flared. It quickly devolves into escalating barbs between the male and female historians. Drink it all in:
At its core, Gender Wars is an isometric perspective strategy action game. Your mission is to assemble a team of suitable soldiers for a variety of missions, sometimes bloody, sometimes sneaky. You have a selection of team leaders and soldiers from which to build your team of 4. Various soldiers are rated differently in 4 different attributes which is supposed to make some soldiers more suited for certain missions than others.
Mostly, the game is an excuse to exchange ruthless, equally sexist barbs at both genders. Here is a shot from the FMV sequence when the men approach their drop point. One is drunk and can't offer much-needed assistance in landing the craft: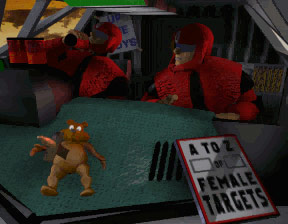 Here is the first mission briefing for the mens' side. I retyped it because the screenshot was tiny and indecipherable:

Right lads, Coach (The Patriarch unless you'd forgotten who THAT was) has got in mind a little mission for us. It's our job to stealthily infiltrate the female city and cause as much destruction and mayhem as is manly possible.
This will be the start of a cunning scheme to once and for all overthrow the Matriarch and her evil harlots.
Our target is their egg-shed. They reckon it's well guarded but one of our lads could get through wearing only a pair of boxer shorts and armed with a can of beer. Once you're inside grab the storage tubes and kill any women you see. The supplies you need are in repro-tower B but if you accidentally go to the wrong one and lots of women should accidentally die because you accidentally riddled them with laser bolts, I'm sure the Coach will understand that you were confused and misguided by the emotional effects of war. Our Boss knows the score. Remember, body count up, female population down.

As you might be able to guess, I'm just trying to fill up space here. I didn't play the game too long. I had trouble figuring it out. Plus, real time strategy is another genre that I have never gotten into. I'm pretty sure that's what this game is. It's hard to gauge since I don't have much of a reference point. Please correct me if I'm wrong. Here's an action screenshot depicting the manly men invading a female lounge area: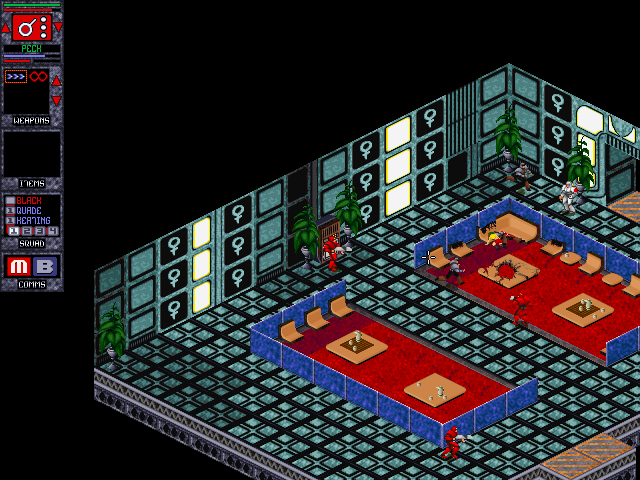 You lead your team around the base, through series of elevators and corridors and lounge areas on your way to the mission goal. Kill any women you see. A lot of games where I control just one entity confuse me. These games where I am expected to control multiple entities in real time are always beyond my grasp. You can issue orders such as "fire at will" or "wait for my signal". Plus, the character you are presently controlling only fires when you indicate; the others are operated on some limited AI. When I enter a new room, the other soldiers may or may not follow. This game reminds me a lot of Powermonger — the virtual cat herding simulator — in this regard.
I'm just thankful that there was an instructional text file on the CD-ROM. This isn't exactly a point & click interactive movie (though I do like the FMV on offer). I didn't quite understand this segment of the keyboard quick reference. Is there a range of keys between PgUp and PgDn on some keyboards?

 PAGE UP  - Fire at Will - soldiers fire at anything that moves
            On my Signal - soldiers only start shooting when you do
            Defence Only - soldiers shoot when they are attacked
 PAGE DN  - Fall Back    - soldiers retreat and `fall-in' behind you

What kind of fun do the ladies have in Gender Wars? I'll end with the briefing for the first female-on-male mission:

As the Matriarch lays down her plans to annihilate the Patriarch's interbred forces, we have been blessed with the task of gathering information about their so-called Military Corps.
The Communications Sector is the backbone of all the city's information exchange. If we access their computer terminals we can insert listening programs that will send copies of all their communications to our base. The squad should be kept small for this mission, to minimise the chance of alerting the enemy to your presence.
You will be given four encrypted cards, each of which must be placed in a different terminal. You only need to insert one card to complete the mission, but if you insert others our listening system will be more secure. Some of the messages that we will receive are certain to be encrypted so try to get your hands on a decoding card. Unfortunately you will have to kill one of the senior staff to get one. Oh dear, what a pity.
Once the mission is complete return to the pickup point for your triumphant return home.

Happy Valentine's Day to you and yours.
See Also:
At MobyGames: