Sometimes, all I have to go on is a CD-ROM. That's how it was with Roketz. Turns out it's a DOS game. Time to fire up DOSBox and have at it. The credits, however, imply that there was also an Amiga version that preceded the DOS version.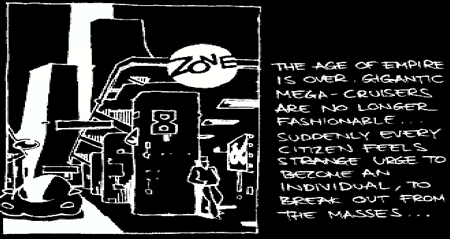 I had some trouble making a go of this until I remembered to severely crank up the CPU cycles in DOSBox — this game was from 1996, after all. It's also the first and only game I have seen which uses a 720×350 color graphics mode. The game is set in a dystopian future, probably — I think the preceding story screenshot was supposed to establish setting for this game. The art style is not in keeping with the rest of the game.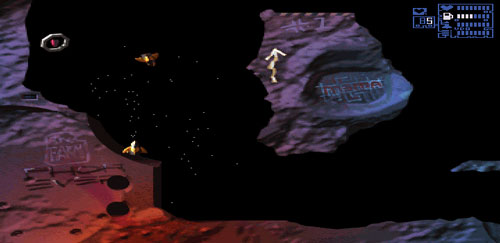 As for the game, it reminds me a lot of those Positech racing games I played quite some time ago. Race around a 2D map and shoot at other players while collecting powerups. This game functions in both free-for-all combat mode as well as lap racing mode.
There are also powerups to be purchased, including a teddy bear for good luck: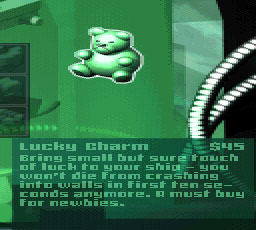 The game was developed by an Estonian group called Bluemoon. They still have a functioning website where they claim credit for helping to create both Kazaa and Skype. And they created the beloved SkyRoads game. Both SkyRoads and Roketz are available for free download from their website
See Also:
At MobyGames: