I put my iPod on random play recently and out of the thousands of songs loaded, "Jump" by Kris Kross came up. I construe this as a supernatural sign that I can no longer avoid my duty of playing the notorious Kris Kross Sega CD game and entering it into MobyGames. This is something I have been putting off since I first started in with the Sega CD titles for this experiment last March.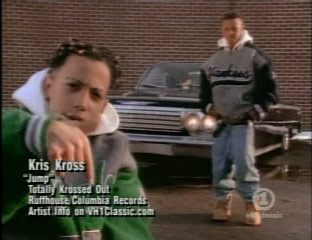 I have long dreaded this day. But I recognize that if I can nail down just one of the games, the other ones should be fairly simple to write up and enter in the database. I can't quite articulate why these games give me such pause. I mean, I've suffered through some real stinkers this year. But perhaps it's the fact that I once tried to wrap my head around these so-called Make My Video games well before this experiment began, and I knew what was in store, trying to articulate this game for the sake of the database.
It's not uncommon to hear jaded game geeks clamor for new, innovative types of gameplay. Be careful what you wish for. When CD-based games first hit the market, developers weren't quite sure how best to use the capacity (I wager that there are similar growing pains right now surrounding the new Nintendo Wii controller scheme).
Maybe I should just get to the point. There was a series of 4 games called "Make My Video" released for the Sega CD system. Each one starred a different musical act popular at the time (circa 1992). The gameplay revolved around intense, real-time video editing. The four different games technically do qualify as games since there are goals to achieve. The goal takes the shape of editing together a video according to varying specifications.
The four acts in the different games are Kris Kross, Marky Mark and the Funky Bunch, INXS, and C+C Music Factory. That latter one went by a slightly different title than the rest, Power Factory Featuring C+C Music Factory, which has thankfully already been entered into the database. I thought it was an unrelated title until I did a deeper investigation today and recognized that it's part of the same series.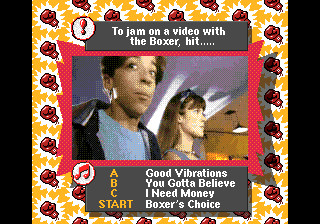 I started with the Marky Mark title since I actually have the manual for that title. It doesn't matter. The game, or rather the gameplay, makes so little sense that I would find it a wonder if any player ever succeeded in any of these video editing missions. Each game has some setup, some raison d'être for the task at hand. In this episode, teenage siblings (the brother played by Seth Green) argue about the ideal contents of a Marky Mark video. After much heated debate, they enlist the help of a boxer and his trainer, a trio of airheaded teenage girls, a garage band, and their own parents, all for advice on a perfect Marky Mark video.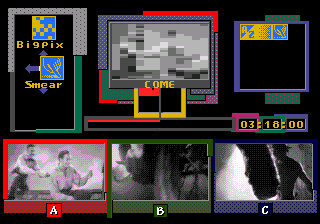 Once you select a song from among 3 Marky Mark smash hits and have solicited specifications, you are thrust into the editing screen seen above. There are 3 video channels playing– one is the original music video and the other is random footage that, as Seanbaby hypothesized, is most likely public domain stock footage. You switch between the 3 channels using the A, B, and C controller buttons. The control pad allows you to select among various effects, such as color filters, blocking filters, strobes, freezes, lyric subtitles, and others.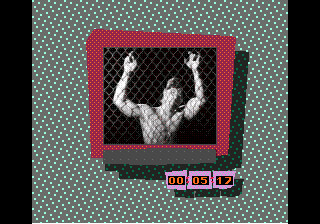 The "level", such as it is, lasts as long as the video does (4 1/2 minutes for "Good Vibrations"). When finished, the game torments you with the fruits of your own labor by playing the final product back for you. At the end, the girls have the audacity to criticize me, almost as if they're forgetting that they're the ones who custom-ordered a Marky Mark music video.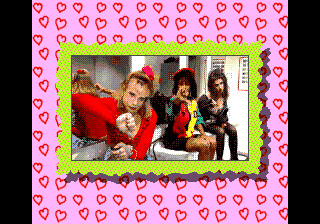 One down and 2 to go, but oooooooowwwwwwwwww, does this hurt! Christmas Day was not meant for this kind of misery. The setup in the Kris Kross game is that a radio disc jockey is hosting a radio program in which callers are helpfully offering advice about their ideal Kris Kross video. One woman essentially wants a version of their video for "I Missed The Bus" but without all the shots of alarm clocks because she disapproves of the devices. I must concede that this title offered a marginal improvement over the last since if I fail to deliver a video up to spec, the DJ refuses to play it back for me.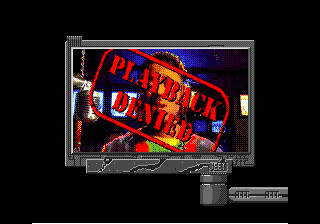 Is that supposed to be a punishment for me? Okay, getting close. I just need to listen to Michael Hutchence of INXS crooning about how he needs me tonight and I'll be done. The setup for the INXS one is that 2 obnoxious women in a bar are monopolizing the pool table. Alternately slack-jawed and nerdy guys are trying to pick them up and some tough, leather-clad chicks are trying to earn the privilege to play their Megadeth videos on the bar's TV (their Megadeth VHS tape looks so quaint these days). So the pool ladies do what comes naturally and challenge all comers to create superior INXS videos.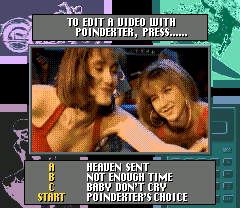 And as a point of fact, "Need You Tonight" is not one of the three videos available for editing here. For reference:
Make My Video: Marky Mark: "Good Vibrations", "I Need Money", "You Gotta Believe"
Make My Video: Kris Kross: "Jump", "Warm It Up", "I Missed The Bus"
Make My Video: INXS: "Heaven Sent", "Not Enough Time", "Baby Don't Cry"
Power Factory Featuring C+C Music Factory: "Gonna Make You Sweat", "Here We Go", "Things That Make You Go Hmmm"
The INXS selections make sense in light of the fact that the game was published in 1992, and the songs come from the 1992 album Welcome To Wherever You Are. In fact, that album's cover art graces an early screen of the game.
Note that you don't have to play in the competitive mode — called EditChallenge — where you create videos to spec (of course, you don't have to play the games at all, ever, or even acknowledge that they even existed). There is also the U-Direct mode where you can just flex your editing skills as you see fit. Otherwise, the EditChallenges usually seem to consist of around 5 specifications — either types of footage to either include or omit, or different filter requests.
All in all, I have to give the game programmer credit (it appears to just be one programmer who wrote the engine that drives all 4 titles) for the types of effects he was able to pull off on such limited video hardware.
Kudos also to one Mark Wahlberg who exhibited the humility to actually shoot special scenes for his title: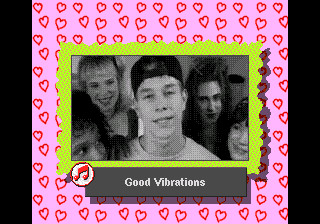 None of the other artists made special appearances for their games. Of the subjects of all 4 games, I ask you: Who has the biggest career to this day?
At MobyGames: