I would hate for March to transpire without a single entry (when I sat down to write this, I had honestly forgotten that I had already logged one post this month, but I am sort of committed to this evening's gaming now). So here I am, again, at the very last minute. Hey, I think I'll even resolve to springboard over the 10K mark on MobyGames tonight. May as well since I'm only 15 points away from the symbolic marker. That's only 7 1/2 screenshots. I think the reason I have been putting this off for so long is because I haven't had time to prepare my 10K acceptance speech.
It's a good day to play a game because I just got a new shipment in from an eBay seller. That's right! I'm still accumulating games from eBay sellers. That's not as strange as the fact that I found a seller from whom I was able to order over a dozen games, many of which were not in the database yet. Many of these are old DOS games from the early-mid 1990s, some were later re-released on CD-ROM.
Here's one that is already in the database but only had 2 screenshots: Wrath of the Demon. The reason it interested me is that the person who submitted the 2 screenshots claimed that he couldn't get far enough into the game to gather anymore screenshots. I'm pleased to report that I was able to collect a few more, but mostly because I remembered to capture things like story screens, game over screens, etc.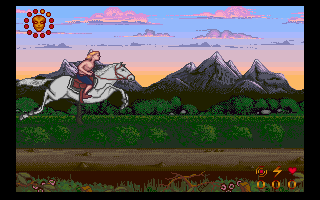 I think this is actually a darn good game by 1990-1991 PC action game standards. At least, it excels in the audio/video departments with its parallax side scrolling and MT-32 soundtrack, both beautifully emulated via DosBox. Indeed, the jewel case copy gushes about the features: "Over 3 megabytes of graphics data; over 600 screens of actions! Smooth 15-level parallax scrolling…; Over 100 monsters, some larger than half the screen." It makes me feel a bit short-changed since I couldn't get much farther than the original screenshot poster.
The first level, seen above, has you riding horseback, jumping obstacles, and dodging birds. I guessed that last part. I later realized that I could hit the birds using the space bar even though I was pressing up on the gamepad to jump. With a little persistence, I eventually managed to clear this stage. Afterwards, a pair of monsters ambushes your campfire. You go into a sword battle with one while his friend chucks blades at you from a distance. I couldn't come up with a strategy for besting them. So I had to sit through their victory dance: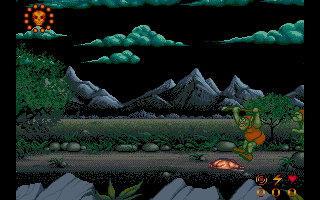 No reason to stop there for tonight since I have plenty of new games that pique my curiosity. Try this title, for example: Forced Alliance: The Glarius Mandate. The game comes on 3 CD-ROMs, features a lot of Smacker animation files, and was published in 1997. It prominently features that bizarre animation style that came to characterize mid-90s 3D animation technology. There must be a name for it, but this is a perfect representation: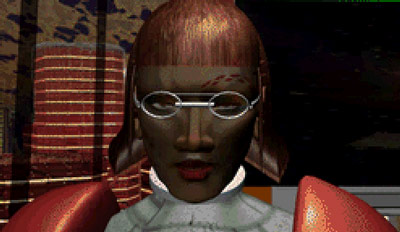 The game opens competently enough, with some good looking (for 1997) animations depicting a spaceship prospecting for minerals in an asteroid belt when a new alien threat attacks him. Some humans murmur ominously about this event and the game fast forwards by 10 years. This shows some recruits about to suit up for some space combat training. Unfortunately, this is when the game exhibits another characteristic that I recall was prevalent from the same gaming epoch: instability.

So there is no getting past the intro of this game. I'll try one more game that gives me no clues from the copy– a Mindscape-published game known only as MagnaFlux Runner. It turns out to be a fairly pointless little overhead racing game: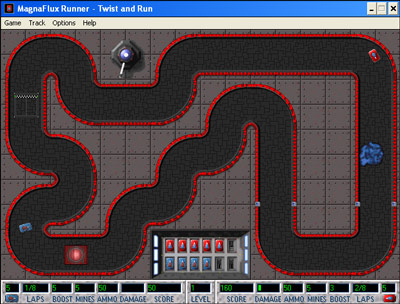 What can I say about it? Well, at least the MIDI music was nice. And it also allowed me an encounter with one of the strangest bugs ever: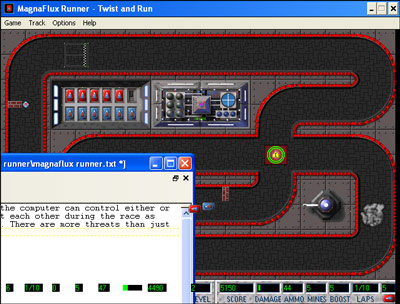 Okay, so what happened is that I put the computer on auto-pilot, playing against itself. I was writing up the game's description in TextPad. When the game got to level 2, I switched back to the game window. However, part of my text editor remained in the game's window. That's not the weird part. The weird part is that the cars seemed to be treating the text editor window as an impassable boundary! I think the behavior occurred as a result of the game window being obscured during a level change.
Anyway, watch for 10K points soon.