I was reading recently about stealth aircraft including the F-117A Nighthawk when I remembered there was a NES game with that particular fighter craft in the title role. Sure enough: F-117A Stealth Fighter, and it's not in the database yet. The title screen bears a 1992 copyright date. What I'm trying to figure out is whether the game is a NES platform port of the game Night Hawk: F-117A Stealth Fighter 2.0 that was released for DOS in 1991, Amiga in 1993, and Mac in 1994. Same company: MicroProse.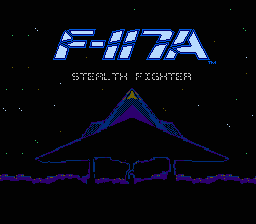 In fact, MicroProse published the first combat flight sim I ever played: F-15 Strike Eagle. It was also the first game my family bought for our brand new 8088-based PC right before Christmas in 1984. Therefore, the game would have to have been released in 1984, contrary to MobyGames' release date of 1985 for the PC booter version. Regrettably, the discs and box are long gone so I have no evidence to back this up. I only bring it up as it is remains a longstanding point of friendly contention between myself and one of MobyGames' founding fathers, Trixter (I'll never let it go!).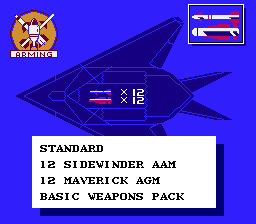 But I digress in a major way… I was curious to see exactly how one might pull off a flight simulator on the NES. Flight sims are among the more complicated — and therefore feared, by me — games that one can undertake. That old F-15 Strike Eagle game used quite a bit of the keyboard and I was curious to see how MicroProse could execute a combat flight sim with only 8 input buttons (up, down, left, right, select, start, B, and of course, A). The answer turns out to be combinations of buttons (e.g., B+select to switch from map to radar view) and unintuitive navigation through option menus.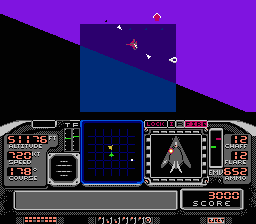 I found the actual gameplay very frustrating, much more so than the F-15 from 8 years prior (that's right! Eight years, not seven! I'll never drop the issue!). The controls were much less responsive and the graphics much worse than that old PC booter game. Both graphics systems had severe weaknesses to overcome. The PC had its 4-color 320×200 bit-plane raster display. The NES had its tile-addressed 256×224 display capable of a few more colors. It was hard to make anything out in either game. Now that I think about it, this game did have better enemy plane representations. F-15 basically had wire mosquitos. This had sprite drawings at different sizes. Though I found it suspicious that there were never any clouds in the sky at the same time enemy planes were in your sights.
It didn't take long before I got so frustrated that I wanted to kill myself. I sure couldn't count on death-by-combat since no matter how many missile strikes I sustained, my craft still remained airworthy. Time to take a bath. You wouldn't believe how long it took to plunge straight down into the Mediterranean Sea between Sicily and Libya. Long enough to write plenty of notes detailing why this game probably won't make my list of games to replay sometime.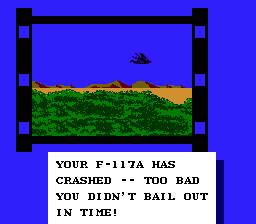 Perhaps the most notable feature of this game is its use of digitized voices, longer than I have heard in any other game yet (not very long, but still).
See Also: