I watched a hard science fiction movie recently by the name of Moon in which Sam Rockwell is the lone human operator at a lunar mining operation that harvests energy to meet earth's energy needs. The movie reminded me heavily of a game from Sierra that I had always wanted to try named Outpost.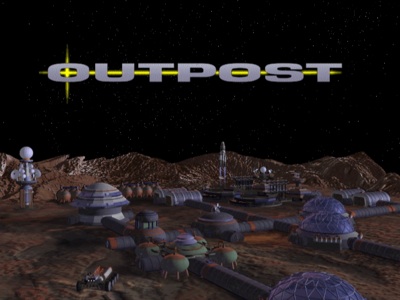 So I tracked down the game on eBay (along with a few other fluffy titles that will show up on this blog eventually). The game is already in MobyGames, but not with very many screenshots. Unfortunately, I could not make the game run in Windows XP. I was able to capture the above screenshot using a separate movie player — the game uses many FLIC animations, one of the oldest of the old school animation formats.
Popping the CD-ROM in the tray produces the following dialog: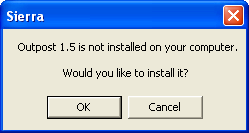 Clearly, this is a later revision of the game, ideally with some bugfixes. But afterwards, it launches the setup.exe program which is clearly indicated in the task bar:

But does not do anything else, aside from playing a sound. It should be noted that the usual Windows compatibility hacks were fruitless. So, all in all, a disappointment… or was it? The game comes with a 120-page manual in PDF format. While interesting and well-written, it's also very long. Playing this game would have been a significant time investment, not unlike attending a class on a subject that won't be particularly useful throughout your life. At the risk of sounding elitist, the more I read through the manual, the more I felt that I should be putting my vast intellectual resources to better use (there are at least 1/2 dozen unentered Barbie games, for example; or maybe even something completely unrelated to gaming).
According to the MobyGames trivia entry, this game was once awarded "Most Brutal Customer Stultification in 1994" by a gaming magazine.
See Also:
At MobyGames: