This is my first exposure to this curious genre of American Laser Games interactive movie shooters, a genre mashup that came about before anyone was likely aware of the concept of a genre mashup. Allegedly, Who Shot Johnny Rock? was wildly popular along with other games from the same group, the most famous of which was Mad Dog McCree. Maybe these games worked better in the arcade where players got to use a gun instead of a mouse. I do remember seeing such games in the arcade and they certainly were novel, which is great for an arcade run.
Unfortunately, I think novelty was probably the one and only thing this game and others like it had going. At first, I thought that maybe this would be an I-movie type game. But as I started it up, I remembered that this was from the Mad Dog McCree folks and that shooting would somehow figure prominently. So a lounge act by the name Johnny Rock has been brutally riddled with bullets. His now-former fiancee enlists the help of you, a private investigator, in order to find who killed him in this quasi-noir 20s-style detective comic story. The whole affair begins in a surreal enough manner. She wanders into your office but there is a thug close behind. You have to plug him fast before he can do you first.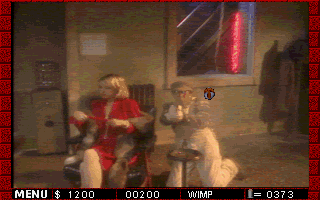 The woman continues as if nothing is wrong, even as goon after nameless goon files through the door, or crashes through windows to put this P.I. on ice before you have a chance to accept the case. Shoot or be shot.
The mechanics of each possible encounter are as such: The encounter is a FMV scene that has a slight window of opportunity to react after the character actually brandishes a weapon. If they don't show a weapon, no matter how suspicious or overtly threatening they appear, you are treated to a funeral scene where someone patiently and condescendingly tutors you on how not to screw up. If you don't shoot within the proper window of opportunity, then it's off to a hospital cutscene where a wisecracking doctor removes the foreign material from your body, but only if you have $400; otherwise, he leaves you for dead and it's off to the morgue for a sly comment courtesy of the undertaker. If you happen to hit the hostile presence within the window of opportunity, you get to continue the quest/case.
There is a minor adventure element at work here in that you have an overhead city map that allows you to select where you would like to visit next. You must visit the hangouts of the "Four Diseases" — big time gangsters in the city — to learn what they know. But not without a major shootout first, one for each locale. The game is primarily trial and error, mostly error on my part. But what it lacks in playability, it makes up for in comedy relief. When you take out this random henchman during the pool hall shootout, he actually leaps forward onto the table to die: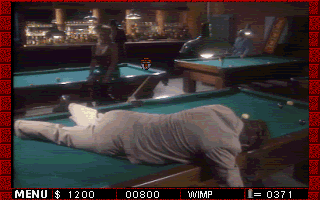 This game was also available on the Philips CD-i and Sega CD systems. I can't imagine having to play this on a system with no mouse! To have to react to the characters using only a control pad — ouch.
See Also:
Mad Dog McCree for the Sega CD — I was right, it's a nightmare to control
At MobyGames: