There are already several versions of Total Carnage in MobyGames (including SNES, Amiga, Amiga CD32, and a Jaguar version published only 2 years ago). But there is not a PC version, as my CD-ROM for the eBay 50-lot grab bag advertises, so let's dive in.
This game seems so darn familiar. Where have I heard of it before? When I start playing, it becomes all too clear: Total Carnage was an old arcade game that was ostensibly based on the same engine and gameplay concept as another popular arcade game at the time called Smash TV.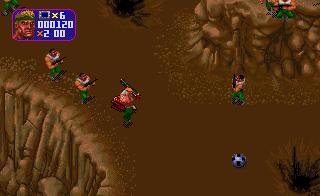 If you're not familiar with either game, they are set apart by their control scheme. In the arcade version, the player controlled the on-screen character's actions with 2 joysticks– 1 joystick controlled the character's movements while the other joystick controlled the direction of fire. This meant that the directions of movement and fire were completely independent. This works great when you actually have 2 joysticks at your disposal. However, most home conversions have had to make due with the control facilities at the disposal of the nominal PC or console. This makes the game significantly tougher. To be sure, there are many, many ways to configure the game: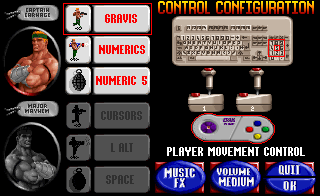 If you actually have 2 joysticks, you can certainly use them. If you have enough dexterity, you can recreate the free form control scheme using lots of keyboard keys. Or a combination of keys and a joystick/joypad. The easiest configuration (for me) is to simply accept the crippled ability and have one firing button on the gamepad so that I can only fire in the direction I am moving. I didn't get very far with the any control scheme and I tried all kinds of combos. It's probably just as well. I remember playing the game's Smash TV predecessor on free play at a vintage arcade. Was that ever a tedious exercise. "Is this game over yet?" was all that my gaming companion and I could say.
Technical: The game has two FLIC files for FMV. Fun. It's also interesting to note that when DOSBox (v0.65) saved the PNG screenshots, it saw fit to save them as 320×196 instead of 320×200. I have no idea why. Is there an undocumented VGA mode I don't know about?