So far, I have been jumping into these SNES games without knowing what to expect. For a change, I thought I would delve into one where I know precisely what to expect– an action side-scroller based on a Disney animated film, Disney's Beauty And The Beast in this case. MobyGames already lists 2 unique B&TB titles for the Sega Genesis, but this appears to be a separate game entirely, and done by different companies.
This game follows the movie's narrative technique known as exposition by stained glass: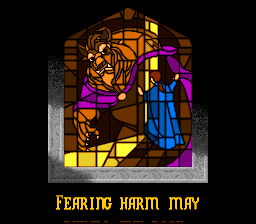 I used to enjoy renting Disney NES games because I was guaranteed an easy win. Not so with this game. I think I see where the discrepancy lies– those NES games were by Capcom; this is from Hudson. This game is tough. Well, tougher than those old NES titles. And maybe "tough" isn't the correct adjective; just "tedious" in the traditional platformer sense.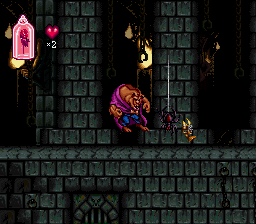 The game presents an abbreviated version of the story laid out in the 1991 animated film. Then it sets up the conflict by stating that the Beast needs to prevent Belle from finding the magic rose, or some such. The first scene shows Belle darting away from the Beast in a dungeon and Lumiere guides the Beast on where to go in order to pursue her. Except that she doesn't have to contend with the plus-sized spiders, rats, and bats in the dungeon.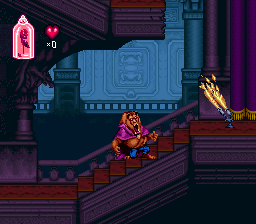 Eventually, I get through the dungeon only to get to the main hall where rogue Lumieres are tossing fire at me and gargoyle statues are coming for me. Seriously, how did the Beast let his castle get away from him like this? Isn't he the master of this domain? How does this happen?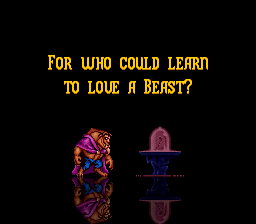 It's hard to believe I ever used to have the patience to work through these things.
See Also:
At MobyGames: