There's one more Windows-based interactive movie on my list that I have neglected up to this point: Psychotron. To be fair, it's actually just a demo that came on a disc with several other demos and 2 full games published by the same company (Merit Software). I vividly remember when I first picked up this title along with 19 others. I perused the multimedia on the CD-ROM, as is my custom. This demo had a number of Cinepak-encoded AVI videos. Videos that are pretty much on the bottom rung of all FMV I have experienced. Seriously, watching this junk almost made me snap and scrap this entire multimedia hobby if it meant I wouldn't have to watch this kind of nonsense ever again.
How bad is it? First, the tracking lines. Yes, tracking lines. If I were to piece together their game-making process, I would have to assume that they filmed their actors with a tape-based videocamera and then replayed the video in a VCR hooked up to digital capture equipment. They most likely cued the tape in the right place, paused, started the capture gear, and unpaused the VCR. Thus, most videos seem to start with tracking bars.
Then there's the actual content of the videos. The demo included scenes where you're trying to get information from a mega-geek in a cemetary and from some mobsters at their poker game. Now, I have to admit that I'm an extremely poor judge of the acting craft. Generally, I can only spot bad acting if it's really bad, especially wooden acting. These people play their characters as the most extreme stereotypes imaginable for nerds and Italian gangsters. I have edited together 7 videos (first 2 are the geek, last 5 are at the mobsters' poker table) for your review:
Good acting? Bad acting? Overacting? Like I say, I'm no expert. But I'm not sure if I believe certain whiplash transitions like when the head mobster's frustration turns to a calm resolve to cap you.
The Psychotron demo is a Windows app (MobyGames reports a DOS version but this demo is for Windows). It doesn't work in native XP or Windows 95/VMware. Color me surprised. It looks like I will need to find a way to install Windows 3.1 (either on a real machine, via VMware, or through DOSBox) sooner or later to handle a number of games. I would still like to get a glimpse of how this game actually plays. I think this would be a great candidate for my I-movie engine re-implementation brainstorm, especially when I studied the directory structure and found dozens of straight text files that are shown in the game. Simple data structure; that's what I'm guessing. From a spot check of some of the text files, I learned that the president of the United States in this game's universe is Richard Marx.
I want to play some new game this evening. There is plenty to choose from on the disc. Here's the menu: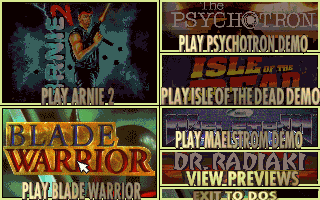 I think I'll check out that DOS-based full Blade Warrior game. Err, no I won't. It crashes DOSBox (0.65). For giggles, I tried it in the WinXP command prompt. "Program too big to fit in memory."
Let's check out the demo for Isle Of The Dead. This works quite a bit better. The game is from 1993 and is sort of a one-off of Wolfenstein 3D. Your plane crash-landed on an island that happens to be infested with zombies. Explore around the island's perimeter which is quite safe. Pick up your basic items (health, shotgun & shells, coconuts). You'll get stuck pretty quick if you don't use your machete to find just the right spot on the wall of vegetation in order to break through to where the real action is. The deadly action. The deadly, undead action. The nearly impossible-to-get-2-meters-into-the-jungle deadly undead action. One moment, you're looking at this: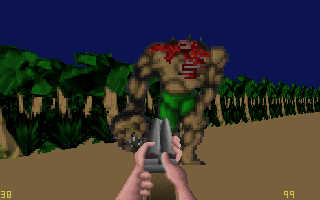 The next moment, the zombie gang is tearing you to pieces (FMV! Flic files):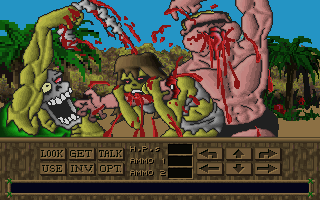 Okay, I'm pleased to say that I actually played a game today. So this is just the demo of Isle Of The Dead. According to this old review of the game, the full version cost $70! That's not Canadian dollars, either– 214 is in Texas.