Jelly Boy is another SNES title chosen completely at random. I have quite a selection to pick from, what with more than 170 unentered SNES games, many of which I have never heard of. It turns out to be a bright, colorful, side-scrolling romp where the eponymous humanoid blob goes about his quest, whatever that may be; the game itself was a bit short on story and I couldn't find any manual online.
This is the macro-level map. At first, I thought it might be an isometric perspective game, like Q-bert.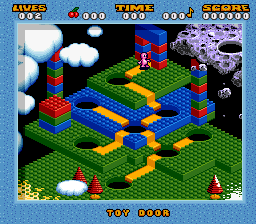 But it's definitely a parallax scrolling platformer. Its credentials are displayed clearly in this screenshot where a floating platform is visible to the left and a lava pit is on the right.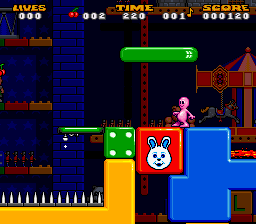 Ice and snow figure into later levels.
The real value-add in this game is that Jelly Boy can transform into various objects given the right powerups. He always has an offensive punch available to him — he forms a sizable fist using his stomach goo. There's a pogo stick powerup for jumping, a hot air balloon powerup for those hard to reach places, a hammer powerup for taking care of inconvenient blocks, a submarine powerup complete with torpedoes for nailing an underwater bonus level, plus a skateboard powerup for cruising through a level. Skateboarding at high speed through enemy-infested terrain does not seen very intelligent, especially since touching an enemy takes away the powerup, but this gelatinous blob is on a deadline.
Be advised that not all powerups are beneficial. At first, it looked like this powerup turned me into a door which I thought might warp me elsewhere. Instead, I just fell on my side when I tried to move: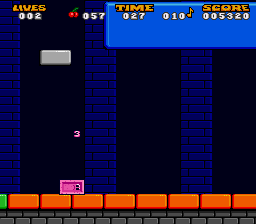 Not a terrible game, no. But I would have liked to know what I was working towards. I gave the game a fair shake until I encountered one of the more ironic deaths imaginable.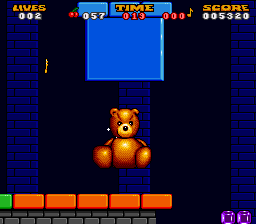 Crushed by teddy bear.
At MobyGames: