I have been raiding my new favorite eBay store for stuff that isn't yet present in the database. This store happens to have lots of cheap games and a surprisingly large collection missing from MobyGames. I load up my eBay shopping cart until such cart gets too heavy to push (this might sound like a joke but it's true– after a certain point, it took way too long to add a new item to the shopping cart; after 29 discs, I had to call it quits).
This batch was heavy on trivia, i.e., there were at least 2 items revolving around trivia: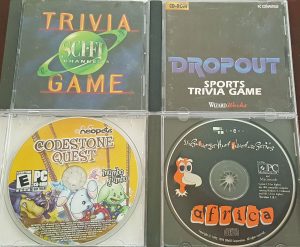 Click for larger image
Sci-Fi Channel Trivia Game: 1996 game by Byron Preiss Multimedia
Dropout Sports Trivia Game: It's a sports trivia game. It seems to be crossed with some kind of grid puzzle game. Curiously, you can play this against an AI opponent, which strikes me as a tad unfair. Copyright 1996 Elsinore Multimedia, distributed by good old WizardWorks. I have also learned that there were other trivia games under the Dropout umbrella.
Neopets Codestone Quest: I don't know much about NeoPets. I was concerned it was the sort of thing that might need extra physical components, like Skylanders. This is by Mumbo Jumbo, though, and I've enjoyed all of their games so far.
The Scavenger Hunt Series: Africa: Possibly a hidden object game, long before that was an established genre category. Copyright 1993-1994 from oddly-stylized SWeDE Corporation.
Here are the educational acquisitions from this raid: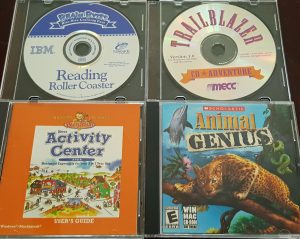 Click for larger image
Reading Roller Coaster: 1998 educational title from Edmark, an IBM company. "Brain Bytes: Byte Size Learning Fun!" might be a series of educational titles.
Trailblazer: This is a 1994 CD adventure by the legendary MECC (of Oregon Trail fame) and it surprises me that it's not in the database yet. Therefore, possibly not a game.
Richard Scarry's Busytown: Best Activity Center Ever: Designed for 3 to 7 year olds. 1998 educational game from Simon & Schuster.
Animal Genius: A 2008 game from Artech Studios. The cover art promises 5 addictive games, likely pertaining to animals. The cover art is sharp but the screenshots look shockingly primitive for a 2008 title. I'm wagering this was a set of Flash games for the web that was later packaged and sold on a disc.
And here are the girl-oriented titles from the lot I procured: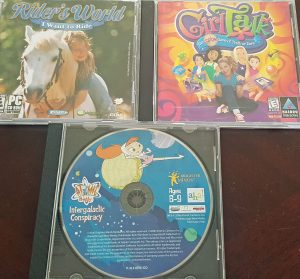 Click for larger image
Rider's World: I Want to Ride: I have covered 2 horse-riding series on this blog so far (Let's Ride and Time to Ride). Based on the colonized title "I Want To Ride", I'm guessing there are other titles in this series. Copyright 2006 and the companies mentioned are Aipirinha Games, Calibre, and CDV.
Girl Talk: The CD-ROM Game of Truth or Dare: Rated E for everyone, which doesn't really square with what I've always heard about Truth or Dare sessions. 1998 game by Humancode and published by Hasbro. Perhaps positioned as competition for Mattel's contemporary Barbie games.
A grab bag of gaming oddities: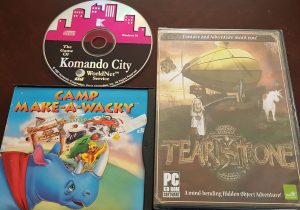 Click for larger image
The Game of Komando City: This 1997 title promises to be a game of some sort (the word is right there in the title). A little more googling indicates that this is some kind of computer training. Companies mentioned include Komando Corporation, Peak Interactive, and AT&T WorldNet Service (the latter is probably an ISP offer).
Camp Make-A-Wacky: 1996 kids game (possibly edutainment) from Turner New Media.
Tearstone: "A mind-bending hidden object adventure!" This is a hidden object game. I still have yet to actually play a hidden object game. I have a feeling that it's easy points for MobyGames. Copyright date is confusingly listed as 2002-2013. Companies mentioned are Tag Publishing as well as ValuSoft-Cosmi, which is the first time I realized that those 2 purveyors of budgetware had merged.
And now we come to the section of "stuff that almost certainly contains no gaming elements but is still interesting":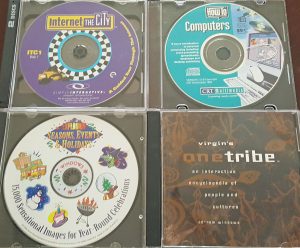 Click for larger image
Internet The City (2 CD-ROMs): A Guided Tour Through The Internet. No copyright date on either of the disc. From Simply Interactive. You probably won't be surprised to learn that their URL simply.com doesn't host their original site anymore.
How To Computers: 1994 learning title from CRT Multimedia. I feel like they were decades ahead of the trend, grammar-wise ("How to 'noun'" seems to be a recent fad). This promised to teach word processing, spreadsheets, databases, and desktop publishing.
Art Explosion: Seasons, Events, & Holidays: 1998 title from Nova Development Corporation. 15,000 sensational images for year-round celebrations.
Virgin's One Tribe: I didn't get a close-up picture of this title on eBay. I just saw it was a Virgin Interactive title, and that it didn't show up on MobyGames. I was hoping it was a missing game. Not quite: "An interactive encyclopedia of people and cultures."
And a final grab bag of general oddities: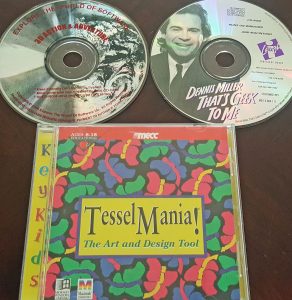 Click for larger image
3D Action & Adventure: A 1994 Shovelware disc
Dennis Miller: That's Geek To Me: 1995 title by Sanctuary Woods.
TesselMania!: The art and design tool, also by MECC. Create tesselated images.