I'll have you know I was on the ball this evening. As soon as I got home from work, I went straight to my new second job playing old games that no one has heard of. I had already picked out this evening's game in advance. A fat lot of good my planning did me tonight. I investigated a title called Total Racing Cars which is not quite as generic as simply slapping "Pinball" on your CD-ROM, but it comes close. I'm always in the mood for a good racing game but I'm less enthusiastic when I realize that the game is merely a repackaging of the shareware versions of commercial racing games such as Need For Speed III and Daytona USA.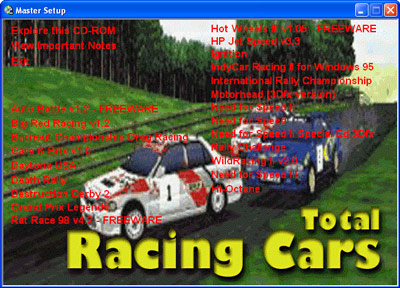 Okay, so that doesn't count. Let's move swiftly on to Spy Kids Learning Adventures: The Underground Affair. This is one in a series of three educational games based around the Spy Kids franchise. This particular version of The Underground Affair was yet another in a series of PC Treasures titles/AOL delivery vehicles purchased for a dollar each at Super Target. And someone screwed up when licensing this game for budget distribution. I'll expound in a moment.
The story of this game explains that there is a mine in South America where anti-gravity ore is extracted and then stored in a special, air-free silo. This material apparently has application in the spy field. And it seems that a bunch of it has gone missing. The story colorfully unfolds in a panel-by-panel, comic book-style manner. It's a nice effect.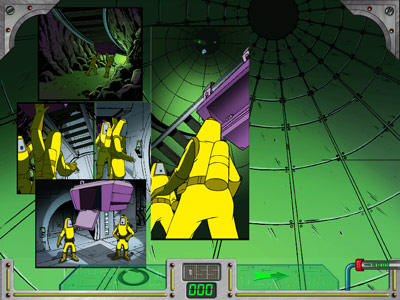 This is where the Spy Kids are called in to investigate. From their treehouse base of operations, they are instructed to hop into the DragonSpy craft to travel to South America and find clues about the missing ore. Here's the learning opportunity, and the catch: In order to activate the DragonSpy's navigation system, you must solve a puzzle in the book in order to find a code to enter into the ship's system: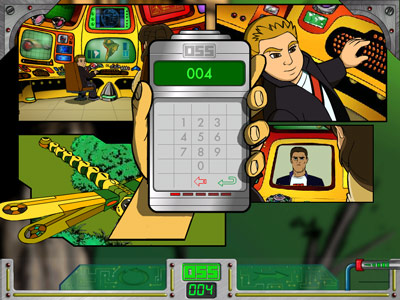 Umm, where's the book? PC Treasures only licensed and re-distributed the CD-ROM, not the accompanying 32-page puzzle book. That brings the game to a screeching halt, unless I care to start reverse engineering the game. Which I don't care to do.
For trivia, the other two games in the series are named Man in the Moon and The Candy Conspiracy (oops, and another game: The Nightmare Machine).