Just when I think I might be hitting a point of diminishing returns, I find 16 more items on my new favorite eBay store that don't show up in the MobyGames database.
This lot contains 2 items that are in obscure franchises first seen in my last acquisition log entry (Dropout Trivia and Brain Bytes):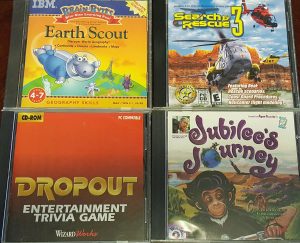 Click for larger image
Earth Scout: Another in the "Brain Bytes Bite-Size Learning Fun" series. 1999 title that purports to teach geography skills. From Edmark, by now an IBM company.
Search & Rescue 3: From Global Star Software, copyright date unknown. MobyGames has a number of the games in this series, but not this one yet.
Dropout Entertainment Trivia Game: Presumably the entertainment counterpart to the sports variant I found for the last entry. 1996 game from Elsinore, published by WizardWorks.
Jubilee's Journey: "A Jane Goodall environmental journey". 1996 educational game from Mind Magic.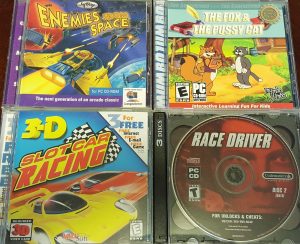 Click for larger image
Enemies From Space: A SoftKey release of "the next generation of an arcade classic". 1997 title by TLC Properties, a subsidiary of The Learning Tree. The screenshots look a bit Galaga-like. The cover art also promises 10 free hours of Compuserve.
The Fox & The Pussy Cat: This is a Mumbo Jumbo title and I usually expect better from them. However, the screenshots on cover art of this 2004 game are fairly uninspired, appearing about 10 years out of date.
Slot Car Racing: It's possible that this is supposed to have "3-D" as a prefix; I'm not quite sure. The cover art does state that a 3D video card is required. 1998 game by Toys by Phil and published by ValuSoft.
Race Driver: Another rather generically-named game. This one is from Codemasters. It comes with 3 discs. There are 2 copies of disc 1, one in English and one in French, while disc 2 is marked as data. The database already contains several racing games from Codemasters, but I can't match this one to any of the ones on record.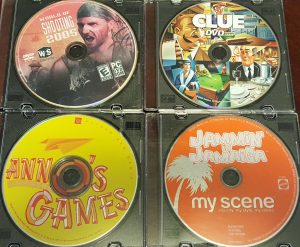 Click for larger image
World of Shooting 2005: The title of this game from WS Enterprise is rather to the point. The title also implies that there are other versions for different years. MobyGames has no record of these.
Clue: A DVD game of the venerable classic board game. Copyright 2006 by Hasbro.
Ann's Learning Games: 1994 game from Putnam New Media. The title implies multiple educational games.
Jammin' In Jamaica: A 2003 title from Mattel. Since it's from Mattel, I figured it might possibly be a game. However, it bears no ESRB badge. It also says "Approximately 44 minutes, color, not rated", so perhaps it's just a multimedia disc exhibiting a video.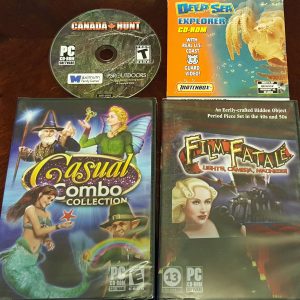 Click for larger image
Canada Hunt: I suspect this is another in the venerable genre of hunting games, only set in Canada. 2009 title, and the companies mentioned include "Maximum Family Games" and "PSR Outdoors: The Most Realistic Hunting Games".
Deep Sea Explorer: Another MatchBox title, "with real U.S. Coast Guard video!" 1999 title.
Casual Combo Collection: Shovelware collection which seems to consist of 4 color-matching games: Woodville Chronicles, Wizard Land, Age of Emeralds, and Lost in Reefs. Published by ValuSoft-Cosmi.
Film Fatale: Lights, Camera, Madness! Another hidden objects game. 2012 game from Fugazo. It has a ratings system I haven't heard of before: Family Friendly Ratings Council, or FFRC. I recommend that you not visit the site directly as it's home to a pr0n squatter. If you must visit, check out the last Web Archive version before the squatter took over.