Over the past year, I realized that the old era had passed long ago. This revelation was triggered by a cereal box, of all things.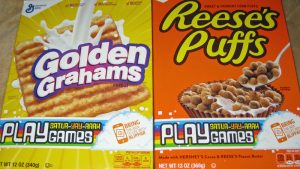 Click for larger image
What brought on this revelation? You see, for at least a decade, it wasn't unusual for cereal brands to actually pack compact discs into their breakfast cereal boxes. What interested me were the games that were occasionally packaged, though some music CDs were sometimes available (my favorite Christmas album of all time came in a box of Chex). But this is not the way of things anymore.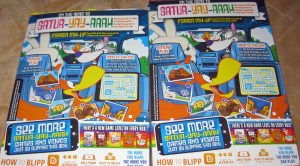 Click for larger image
Alas, the world has long since moved on from optical storage media. As you can see from these photos, if you want to play the included games, you need to install their mobile app and then scan some code in order to access a game.
It's not just for cereal boxes either. Gaze upon the venerable Cracker Jack toy surprise: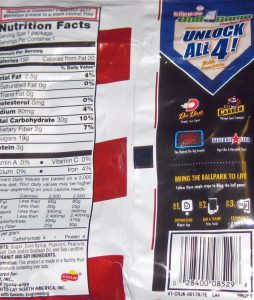 Click for larger image
I've heard really old timers complain that the toy surprise used to be a real toy and not some rub-on tattoo. Now I'm old enough to remember when the surprise was a rub-on tattoo and not a code that you can scan using a mobile app in order to access a game: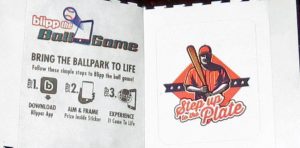 Click for larger image
Indeed, the last time I remember seeing bundled CD-ROM games would have been in mid-2012 when I found some Atari games at Taco Bell, which were themselves re-releases from an earlier promotion in 2010.
I have finally resigned myself to the reality that I will never collect odd CD-ROMs from a cereal box or a fast food establishment ever again. But I still have some sources on old games. Here are some recent acquisitions that aren't yet in the database: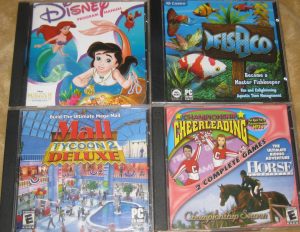 Click for larger image
Disney's The Little Mermaid II: Return to the Sea: There is simply an unending supply of old Disney games that haven't yet gone into the database.
FishCo: "Become a Master Fishkeeper": From Cosmi. I guess there is an aquatic theme with this particular lot.
Mall Tycoon 2 Deluxe: MobyGames has the standard version but not the "Deluxe" edition; that means more fun for me as I attempt to determine if this belongs as a separate title.
Combo of Championship Cheerleading / Horse Illustrated: Championship Season: What were the odds that the constituent games in this combo pack wouldn't already be represented in the database? Also, "Play your favorite MP3s."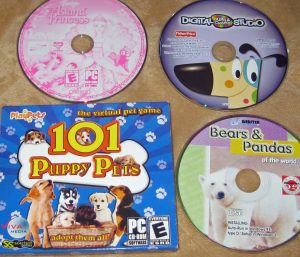 Click for larger image
Barbie as The Island Princess: I'll also never run out of unentered Barbie games.
Fisher-Price Digital Arts & Crafts Studio: Probably not a game as opposed to a creative tool, but might still have some game elements. Copyright 2007.
101 Puppy Pets: With the tagline "adopt them all", this feels like it's aping 2 other franchises: 101 Dalmatians and Pokemon. Companies involved are Viva Media and Selectsoft Games.
Bears & Pandas of the World: From Webster Publishing and bearing an ad-hoc "Windows 95 plug & play" logo. Unlikely to be a game.
I procured a lot of old games from someone who really enjoyed hunting games. Here are the items that aren't in the database: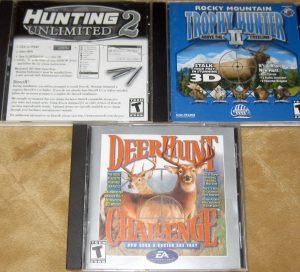 Click for larger image
Hunting Unlimited 2: The jewel case cover looks photocopied.
Rocky Mountain Trophy Hunter II: Above the Treeline: I remember seeing this on the shelves a long time ago. From Infogrames.
Deer Hunt Challenge: Kill more woodland creatures. This one is published by EA.
Some other random missing items: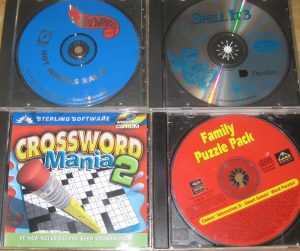 Click for larger image
Hot Wheels Rally: 1996 game from Mattel.
Spell It 3: Presumably educational title from 1995, published by Davidson & Associates. I'm guessing a singing frog figures into the proceedings.
Crossword Mania 2: The first game was popular enough to warrant a sequel, apparently. From Sterling Software.
Family Puzzle Pack: Probably a shovelware pack. From Encore Software.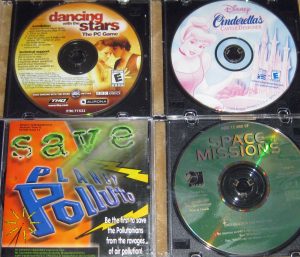 Click for larger image
Dancing With The Stars: The PC Game: I should examine this one at the same time as Dance With ABC since Google already conflates them. 2008 title from THQ.
Disney Princess: Cinderella's Castle Designer: 2003 title. I'm curious what kind of gaming elements this contains, but it does feature an ESRB badge.
Save Planet Polluto: "An interactive edutainment experience from the Sacramento Metropolitan Air Quality Management District under a grant from the U.S. EPA Office of Transportation and Air Quality." Also, the tagline is, "Be the first to save the Pollutonians from the ravages of air pollution!" It raises some odd questions, like where the name Planet Polluto comes from if it's not supposed to be polluted. I'm sure it will all make sense once I play it.
Space Missions: Just… Space Missions. The title makes it sound like it's an expansion pack for another game. 1997 title for Mac and Windows. No ESRB badge, but it does feature an ad-hoc ISO-9660 (CD filesystem) badge.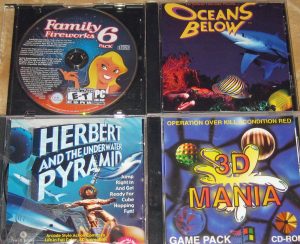 Click for larger image
Family Fireworks 6-Pack: Published by Viva Media, this appears to contain 6 2009-era Windows games: Fritz Chess, Card and Casino Games Platinum, Jewel Labyrinth, Sudoku Mania, Mahjongg Platinum 3, and Super Word Challenge.
Oceans Below: From the Software Toolworks. Probably an educational exploration rather than a game.
Herbert and the underwater Pyramid: From Swift Jewel, "Jump right in and get ready for cube-hopping fun!"
3D Mania: The cover art leads me to believe this contains Operation Over Kill and Condition Red. MobyGames contains no record of either of these games.
This unentered title gets a category of its own: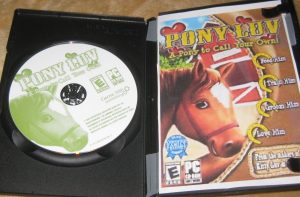 Click for larger image
Pony Luv: A Pony to Call Your Own. The reason this stands out is that the seller didn't want to send it without cover art. So they found a low resolution photo of the cover art material, scaled it way up, printed it out on standard paper, and taped that to a generic keepcase. A+ for effort, I guess. I won't be scanning it for MobyGames, though.
Next up, I have a whole bunch of educational titles published by Sunburst Communications and procured from a retired schoolteacher. Here is the Phonics lot, all of which are marked as published in 2000 for both Windows and Mac: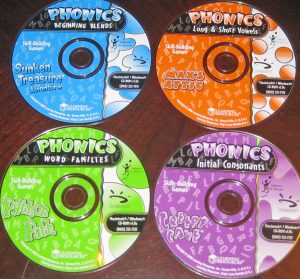 Click for larger image
Phonics Beginning Blends: Sunken Treasure Adventure
Phonics Long & Short Vowels: Max's Attic
Phonics Word Families: Python Path
Phonics Initial Consonants: Creepy Cave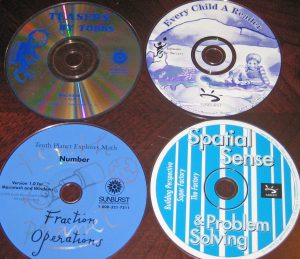 Click for larger image
Teasers by Tobbs, Mac-only
Every Child a Reader, 2000, Mac & Windows
Tenth Planet Explores Math: Number: Fraction Operations: Not sure where the title begins and ends with this one. It's copyright 1998 by Tenth Planet Explorations Inc.
Spatial Sense & Problem Solving: Copyright 1992, 1995, and 1996, Mac-only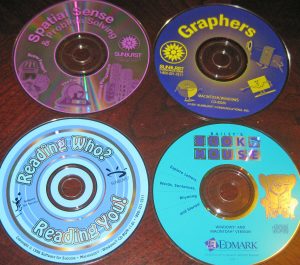 Click for larger image
Spatial Sense & Problem Solving: A second copy, and with different artwork. Mac-only CD-ROM.
Graphers (1997, Mac & Windows)
Reading Who? Reading You! (1996, Mac & Windows)
Bailey's Book House: 1995 by Edmark, Windows and Mac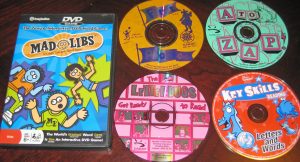 Click for larger image
A Mad-Libs interactive DVD game
First Phonics: 1997, Mac & Windows
A To Zap: Copyright 1995 and 1998, Mac and Windows
The Letterbugs: Get Ready To Read: 2000, Mac and Windows
Key Skills Reading: Letters and Words: 2002, Mac and Windows
Next, I found a series of these CD-ROMs from an outfit called White Wolf Software and advertised to work on "IBM and Compatibles". Each one purports to contain "Ten Great Programs". However, I strongly suspect that refers to shareware versions of 10 programs of varying quality.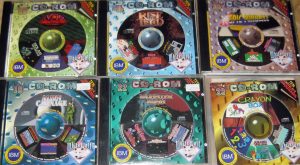 Click for larger image
As I researched all the titles presented on the cover art, I noticed that the various games' release dates are a few years prior to the copyright dates on the cover art. More than a few of the games are from Apogee. It's not unreasonable that they cut deals to distribute the entire games, rather than just the shareware versions.
Finally, here's a smattering of demo discs I have acquired: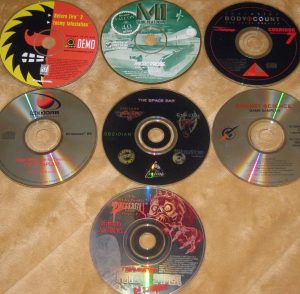 Click for larger image