After my positive experience with my first-ever iPhone application for my iPod Touch, I started wondering what else was available. I don't know why, but I wondered if there were actually any role playing games for the iPhone. A tiny bit of searching produced a title named Zenonia.
Not only am I having my first experience with iPhone games, I also recognize that I am really having my first genuine experience with handheld games. I've never owned any kind of Nintendo handheld device or any other type of portable gaming device (to be fair, there was that brief affair with the contraption I bought on a plane). I've always wondered about the gameplay model for a handheld game– are they strictly meant to be distractions when people are traveling or otherwise on the go? Or do people buy involved games and sit down in their homes to experience them? I guess it's both, given the success of the form factor and the breadth of games available throughout the years. As for involved RPG games, the Final Fantasy series certainly seems to have thrived on the handheld systems.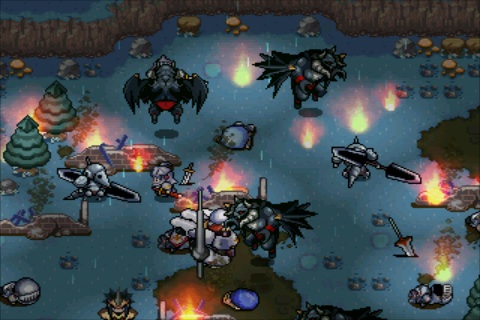 So how does this game stack up against other games in the genre? I'm probably not qualified to answer that since I'm not really an connoisseur of the genre. I can tell you that Zenonia seems incredibly story-driven and linear, at least at the outset. It's busy, yet highly simplistic. There are lots of things happening, but the game always tries to keep you on a single track. It's almost as though the game is designed to grant the illusion of depth that a full console RPG would provide, yet still allow for abbreviated play sessions throughout a series of boring corporate meetings over several weeks, all without the player necessarily forgetting what has happened so far in the game.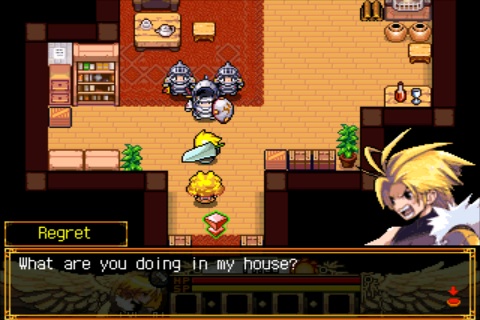 The storyline on offer revolves around the protagonist Regret. Yes, Regret. Everyone in this game has strange names. Lord Virulent is another. I think he is one of the bad guys. According to my screenshots, there is a Lady Charity, Vicious, Sun, Tender, and Billy. A tricky thing about playing these iPhone games is that it doesn't really lend itself to my usual Gaming Pathology workflow, where I take copious notes in the process of playing. Since I end up playing these games wherever I happen to find myself with my iPod Touch and a few minutes to spare, I don't often have my note pad with me.
Here is what I remember from the storyline: There was an epic battle between the Good Guys and the Bad Guys. The Bad Guys lost and accidentally dropped a baby near the front lines. The general from the Good army adopts the baby and leaves the army to raise the baby. This baby is you, Regret. Years later, a demon comes and kills the adoptive father. Regret, now 17, sets out on a quest to learn why his father was killed, and whether it was a demon. I don't think anyone actually saw the murder take place because everyone keeps whispering about whether a demon was involved.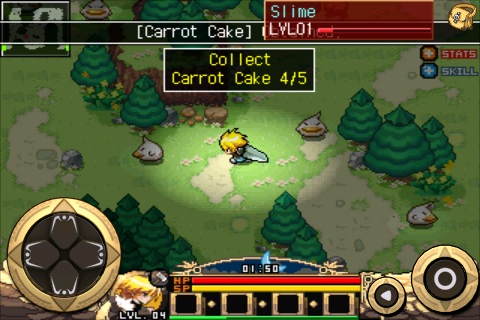 But as with any good RPG, Zenonia involves lots of insipid quests. I've learned that these are sometimes called FedEx quests since they usually take the form of someone asking you to go fetch them something before they agree to help you advance the storyline to its ultimate conclusion. Quests like reclaiming 5 carrot cakes that some slime monsters just outside of town stole (sounds yummy– do you suppose that the person wants the cakes back just as a matter of principle?). At least it's good, low-impact practice for combat.
Something that people invariably wonder about an iPhone game: What is the control scheme like? For Zenonia, there is a digital gamepad on the lower left of the screen and a general action button on the lower right. The action button attacks when near a monster and talks when near a person. The combat system consists of repeatedly hitting the action button in the general vicinity of a monster, hitting it most of the time, and occasionally missing; the success or failure of the swing is updated in a status window, as are the creature's return blows.
There is also the status screen button which takes you to a tabbed window to manage a lot of extra information.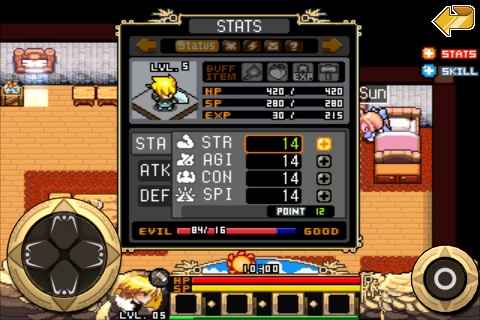 I stipulate that Zenonia has a great challenge to cope with– it needs to provide a lot of functionality, playability and control using a very limited input mechanism (relative to even a classic Gameboy which had a built-in gamepad and 4 other buttons) and everything needs to be very intuitive. It does a pretty good job, though the player probably needs to be familiar with RPGs in general to really get up to speed on this. For the first hour I played this, I was just trying to find an opportunity to save, knowing that if I backed out of the game, I would lose my progress and have to suffer through the story setup again. Eventually, I recognized that I could save absolutely anytime from the status screen.
There is also a good/evil aspect at play, which you can see via the status screen above. It begins at 50/50. I witnessed a battle between a Good character and a Bad character and was given the choice to intervene by helping out the Bad character. I took it and saw my alignment tip severely toward the evil end. Day and night also transpire in this game. These 2 features alone make this the single most advanced RPG I have ever played.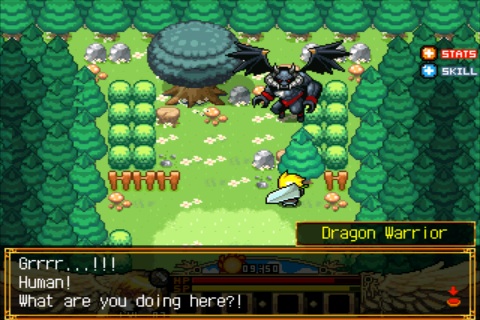 So will I keep playing this game after this MobyGames recon session? Most likely. I mean, it comes with me everywhere and it's never to difficult too remember where I left off. The status screen helps in this respect since it defines what your current mini-quests are and the map screen lays out the world quite well. For now, I need to figure out how to present all the aspects of this game in a concise MobyGames entry.
A brief tech note about this game: the download weighs in at just under 10 MB and decompressed (did you know that iPhone apps are just standard ZIP files with the extension .ipa? It's true– just run 'unzip' against one), it comes in at 15 MB. I merely point this out as evidence that small, efficient, lightweight programming seems to be making a comeback (notwithstanding the Myst remake for the iPhone which allegedly decompresses to 1.5 GB on the phone, phenomenal considering that all the original versions fit on single CD-ROMs, and that the multimedia compression technology that the game extensively relied upon has significantly improved in the intervening years).
Apple App Store link for Zenonia.
At MobyGames: