Once upon a time in this blog, I was seriously looking forward to playing a game called 3D Marble Flip one evening because it reminded me of a game I had always wanted to play when I was a kid but never had the opportunity. The experience left me disappointed.
Today, I was reading about something called The Apple Design Awards. The "Best iPhone Student App" went to a title named Wooden Labyrinth 3D. Now this is more along the lines of what I was looking for. So I finally took the plunge today into Apple's App Store — only 11 months after it first opened for business (I'm not an early adopter by any stretch of the imagination) — and made this game my first app purchase for my iPod Touch.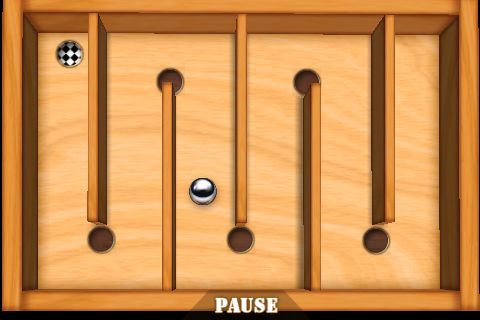 This is actually a marked improvement, both over the previously mentioned computerized version as well as the original wooden version. It's better than 3D Marble Flip because it actually has some decent physics and the board doesn't right itself when you discontinue input. In fact, you can't discontinue input, and that's what makes this game so compelling and appropriate for the platform– you use the unit's accelerometer to control the ball, i.e., tilt the iPhone/iPod Touch in order to maneuver the marble.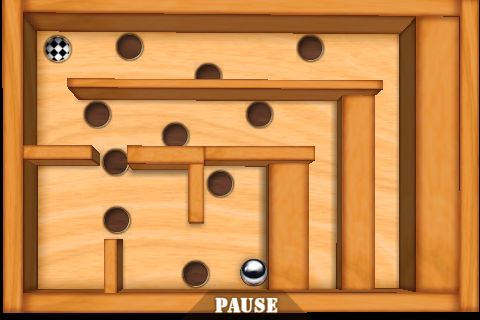 How is this better than the original game? The original game had approximately one difficulty level, if memory serves, and it was quite challenging. This game throws you a few softballs to get acclimated and then ramps up the difficulty (see above screenshot). Further, this game has a nifty jump feature that allows you to overcome low obstacles– just tap the bottom of the unit. Brilliant.
I'm pleased to say that this game earns a rare spot on my Good list.
I'm rather looking forward to checking out some more iPhone/iPod Touch games– it's a rapidly growing area and plenty of opportunity for MobyGames entry. Further, screenshots are unbelievably easy to capture (hold home button and press the top button; Mac software will automatically offer to download screenshots during the next sync).
Apple App Store link for Wooden Labyrinth 3D
See Also:
At MobyGames: