My speed running journey continues today with Whomp 'Em. The hero in this game is an Indian Brave, a.k.a. American Indian or Native American. Reflexively, it makes one wince at the sheer political incorrectness of it all, with its stereotypical Indian protagonist, stereotypical goal of collecting Indian totems, all while listening to vaguely stereotypical Indian-sounding background music. However, it's probably difficult to get too indignant about Whomp 'Em after the raw pornographic indignation offered up by Custer's Revenge for the Atari 2600.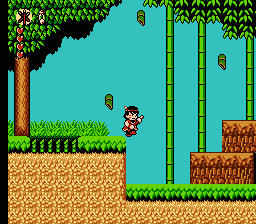 This little Indian's name in Soaring Eagle and his task is to collect the totems for his magic pouch. There are 8 worlds to explore. The first one has to be conquered before the player gets to explore the next 6 in any order desired. At the end of each of the 6 worlds is a boss whose defeat will yield one of the totems. The totems grant Soaring Eagle a new power. If this sounds somewhat familiar, that's probably because of the similarity it bears to the time-honored Mega Man formula.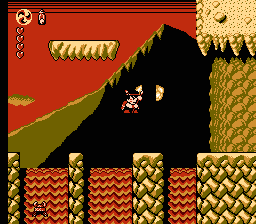 All in all, I have to give the game credit — it's not bad at all. Other games have ripped off Mega Man, but have done a very bland job of it (The Krion Conquest springs to mind). Whomp 'Em features a lot of slick diversity in its different worlds. All the requisite terrain types are represented– fire world, ice world, forest world, swamp world, cloud world, you get the idea.
The only thing I really didn't like about this game was the gameplay. I thought it was a bit awkward and difficult to control. While walking left or right, it seemed to be too easy to slip the gamepad upwards which would make Soaring Eagle stop, albeit, he would be defended from attacks from above.