I picked up Arthur's Wilderness Rescue at my favorite thrift shop, still shrink-wrapped. While originally published in 2000, this was distributed as part of a nutritious Wendy's kids meal earlier this year. I really need a better way to keep on top of these fast food/video game promotions. I honestly don't want to be eating at all the popular fast food restaurants on a regular monthly rotation just to be able to catch these. And don't even get me started on the breakfast cereal promotions.
Moving right along, this is my first experience with the Arthur series, of which I already have several other titles. Only 2 Arthur games are presently in MobyGames, so guess who gets to fill in the rest of the series? This, like the insufferable Mr. Men and Little Miss series, are aimed at a very young set. Ordinarily, that would bother me. Thankfully, this game can be made to move along a little more quickly with extra mouse clicks.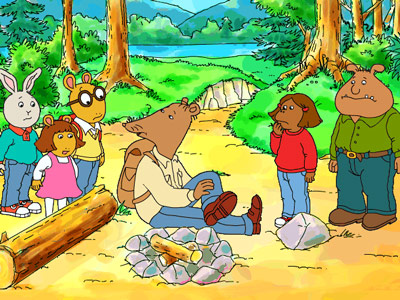 So Arthur's teacher, Mr. Ratburn, takes Arthur and his various anthropomorphic classmates on an educational camping trip to scenic Mt. Rockslide. The hands-on learning begins in earnest when old man Ratburn trips over a log and becomes incapacitated. Arthur is the one in the big glasses. You might be tormented as I was at the question of what animal Arthur was supposed to be– sort of a Goofy-type conundrum. In turns out he is supposed to be an aardvark.
Anyway, the schoolchildren, perhaps not fully understanding the peril of their situation, nonchalantly put their heads together and come up with 3 separate ideas for how they might possibly alert the outside world of their predicament. The player gets to select one of the ideas and then carry it out, exploring the wilderness to try to piece together the plan and accomplish a number of secondary goals along the way.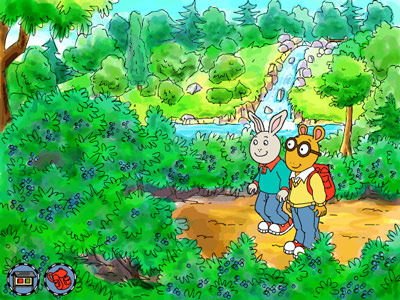 Meanwhile, there is learning afoot. The above screenshot depicts Arthur and his bunny pal Buster finding a bush of wild berries. Apparently, it's quite safe to eat wild berries, and delicious to boot (for the record, not where I grew up). For our next lesson, we're going to go over the cliff clearly marked with a rockslide warning sign: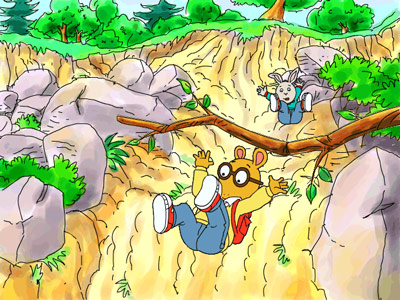 Whee! Such fun, remark the children at the bottom. Later, Arthur and Buster find a shack that has a fallen tree in front of it. After procuring a saw that happened to be laying about in the wilderness, they remove the tree, enter the shack and practice the time-honored "finders-keepers" ethos: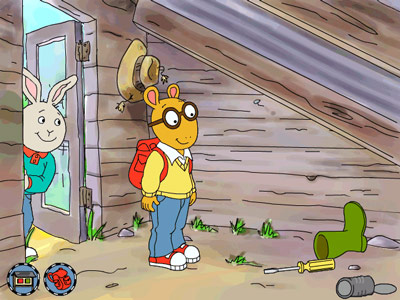 Do breaking, entering, and theft count as separate merit badges, or are they combined into one? It's interesting to note that you don't actually need all the junk on offer. I surmise that if I try to approach the game using another solution, other items in the shack would be applicable.
Irresponsible wilderness lessons aside, I have to give the game credit for its marvelous art style. Look carefully– all of the scenery is crafted to appear as watercolor paintings. There is also a trove of information to be unearthed as you photograph the sundry flora and fauna. After doing so, the game regales the player with trivia regarding the subject of the photograph.