I couldn't stand the thought of finishing out the month of February without a single substantive entry on the old Gaming Pathology blog. Plus, odd as it may sound, I happen to know that there are people out there who game vicariously through me and this blog. So I'm back for a limited engagement here. And I thought I would start with a game from a cheap batch I scored from an eBay seller over a month ago (slacking!).
Totally Spies! is a cartoon as I understand it. Swamp Monster Blues is an adaptation to video game form by Brighter Minds Media. You may recall that this company is responsible for the 4 Spy Kids Learning Adventure games that I worked through last year. So it would seem that Brighter Minds, and their development house Finite Monkeys, has a corner on video game licenses based on underage espionage agents.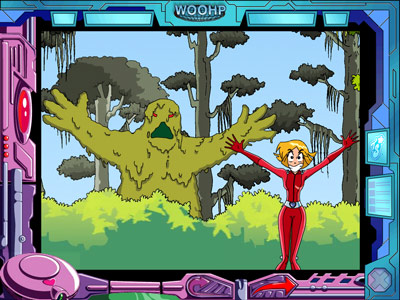 Does Swamp Monster Blues follow the same formula as the Spy Kids games, with a comic book-style story punctuated with minigames but most notably with a supplementary puzzle book that's key to gameplay? I didn't see any PDF on the disc at first. But it looks like Brighter Minds learned something thanks to their distribution misadventures with the Spy Kids titles and, indeed, a workbook is installed. The main menu even asks if you want to print it at the main menu.
As was my custom with this style of game, I worked through as many puzzles in my head as I could. I didn't really want to spend much time on this game tonight. The puzzles were of largely the same style as seen in the earlier franchise, but with a few changes. And the designers also decided to refine the style somewhat– all answers are strictly numeric this time. Even answers that are alphabetic get transformed to numbers using a substitution key. I guess this simplifies the underlying game logic. The first puzzle I tried to solve worked out to '0 3 5 19'. Oops. I think I was only supposed to resolve single digits. Any letters that substitute for double digits are probably wrong. Fortunately, when the game challenged me for the answer to puzzle #1, I was able to feasibly brute-force that last digit.
So the Totally Spies! girl trio is engaged in athletic training when they are abruptly called on a mission to search for an abducted courier down in the Louisiana bayou. The story is told in the same comic book style as Spy Kids but with quite a bit more action. So the developers splurged on that aspect. Then come the minigames, initiated by this brain twister: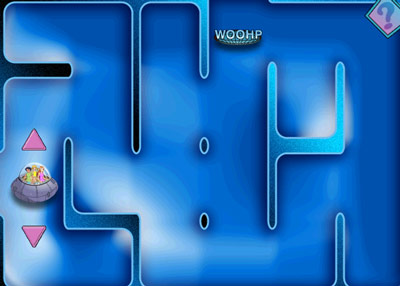 Yes, it really was that easy, and that was on medium difficulty level. Here's the 3rd game, which I found rather novel– sort of a concentric Frogger game. I wonder if this has been tried before?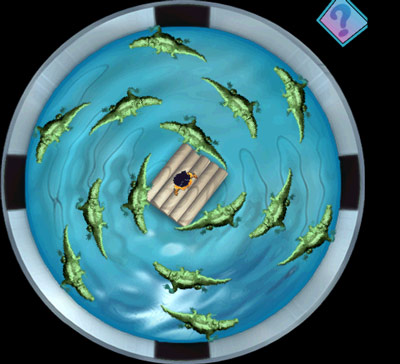 Hop from the middle raft onto the gators and out to one of the 4 exits. The gators will regularly submerge. And I suppose you could consider this game an homage to one of the James Bond films where 007 faced a similar snafu (I fail to recall which of the films; I'm not a huge fan).
See also: