Let's begin with an 8-bit representation of the inimitable Vanna White, if only to needlessly gain a bunch of unrelated Google image search traffic: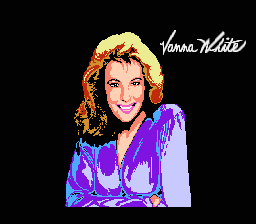 There were 4 different NES games based on the Wheel of Fortune game show license and 4 more based on the Jeopardy! license. At the time of this writing, MobyGames has 3 of the Jeopardy! games (Jeopardy!, Jeopardy! Junior Edition, Jeopardy! 25th Anniversary Edition) and only 1 of the Wheel of Fortune games. So I made it a goal to slog through the remaining games for the sake of completeness.
So what's up with all the different versions of these games? There were 4 different WoF games: the standard one, Junior Edition, Family Edition, and the version featuring Vanna White. Perhaps a table is in order:
| | Standard Edition | Junior Edition | Family Edition | Vanna White Edition |
| --- | --- | --- | --- | --- |
| Release Date | September, 1988 | October, 1989 | March, 1990 | January, 1992 |
| Player characters | None | None | None | Yes, stupid-looking |
| Wheel animation | Decent | Decent | Decent | Regressed, lame |
| Letter-flipping sprite | | | | |
As an elitist gamer — or even a passive, casual gamer — you might be snorting at the fact that there were so many of these games. Frankly, those release dates tell me something — that this license moved cartridges. My first impression upon playing through the series was that the first 3 were developed concurrently and published at the same time (after all, the only changes were the specific puzzles as well as the palette of Vanna's dress). But, no — the games' releases were spaced out quite a bit.
The first 3 games are more or less clones of each other. Here's a representative screenshot: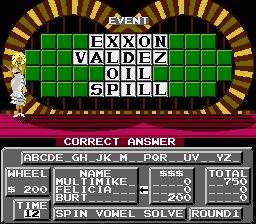 The player basically gets to look at that same game screen the entire time, broken only by the wheel animation. The games can be played against human players or against computer opponents, and at three different difficulty levels. I selected the 'hard' level, which I'm pretty sure is the "No Mercy" level– if the computer gets a turn, it doesn't lose.
What's special about the Vanna White edition? Well, it's the first edition that specifically mentions her by name. Presumably, the earlier 3 games didn't actually use her likeness (can you tell?). Further, the V.W. edition offers actual player graphics. Stupid player graphics, but player graphics, nonetheless.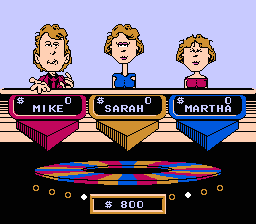 The tradeoff here is that the wheel animation is not as interesting as in the previous games.
As mentioned, Jeopardy! has a much better representation in the database thus far. Only Super Jeopardy! is missing. The progression of the Jeopardy titles seems to parallel that of the WoF titles. The Super title was the final one. There can be up to four players participating (unlike standard Jeopardy! where there are but 3 players). All 4 of the games have player avatars, but the ones featured in this game were a departure from the previous ones seen in the series, but bore an eerie similarity to another game I played today: