Let's try some free association. What's the first thing that comes to your mind when viewing this NES screenshot?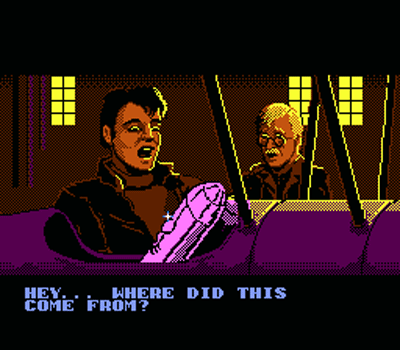 The Rocketeer is one more movie-based NES game that somehow escaped notice during my previous efforts to flush all such titles from the list of unentered NES titles. It wasn't until I read this Cracked.com article about 5 awesome sci-fi inventions that would actually suck, which happens to illustrate jet packs with a still from the 1991 Rocketeer movie, that I recalled seeing an adaptation in Nintendo Power.
Strangely, this Disney license was sold to Bandai rather than Capcom, the usual Disney partner in video gaming during that period.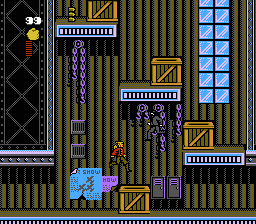 All I remember about the movie is that I don't remember anything about it. According to plot synopses on the internet — which the game follows faithfully in the intro — a crazy inventor develops a jet pack and a benevolent guy uses it to become a hero and save the world, or at least keep the technology out of the hands of Nazis.
The game starts off as a standard run and jump affair as I try to figure out if I'm supposed to be able to fly. I quickly comprehend that I have 6 offensive options at my disposal — fist, pistol, tommygun, spread gun, grenade, and bazooka — all from the get-go, provided that I have enough ammo points collected. The fist is free, the bazooka requires 20 ammo points. Everything else takes some amount in between. This is a nifty feature, save for the fact that it can be cumbersome to constantly cycle through all 6 options during the action (no cycling when paused).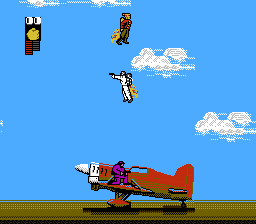 Finally, I stumble upon a gas can powerup that extends a new power meter. This finally allows me to fly in wildly uncontrolled bursts. The game's flight capability is a bit oversold. I'm guessing that it's necessary to use both the jet pack and some fierce firepower to take down the first boss, which I was unable to do.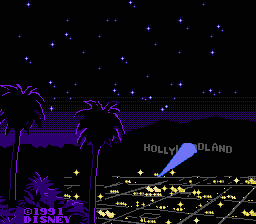 Here's a curious feature about the game. Above is the opening shot (apparently, some of the movie's story takes place against a movie industry backdrop). Note that the sign reads "Hollywoodland". Next, look at some of the exposition text: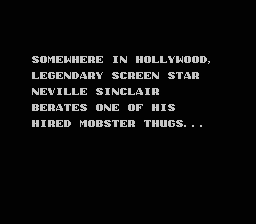 The text reads plain "Hollywood". Do you know why that is? The answer comes courtesy of a Taco Bell placemat that I read some years ago during one of their many contests. The busy disposable placemat showed the Hollywood logo, probably to showcase a trip to Hollywood as a grand prize. Reading the fine print of the placemat revealed that the famed Hollywood logo in the hills is a registered trademark of the Hollywood Chamber of Commerce.