In last night's post, I alluded to breakfast cereal promotions. I decided to tackle that this evening. First up was a disc procured at a garage sale many years ago called 13 Days Of Halloween: Rhythm & Boos. It pertains to Count Chokula cereal. Imagine my disappointment to learn that it is not a game, but an audio CD. I had a similar experience once when investigating a Scooby-Doo disc only to learn it was a video DVD rather than a game. On the plus side, the Rhythm & Boos CD does have a nice 17-minute track of Halloween-type sounds.
No matter, because I still have two representative specimens of a trilogy of promotional discs for the movie Robots from 2005. These games were distributed in specially marked boxes of Kellogg's Pop-Tarts. I never saw the movie but I claim that this robot is considerably more terrifying than any model of Terminator robot: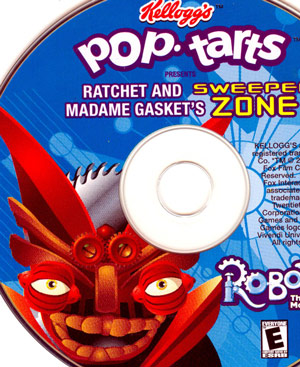 The title Sweeper Zone implied to me that this would be a Minesweeper clone. Actually, no. Your robot's job is to maneuver into traffic and clean up scrap metal. He can only collect one piece at a time and then return it to the salvage point. It's not especially difficult and it gets boring very, very quickly. Fortunately, Pop-Tarts cross-promotion shows up so that I can claim that this is a breakfast food tie-in game: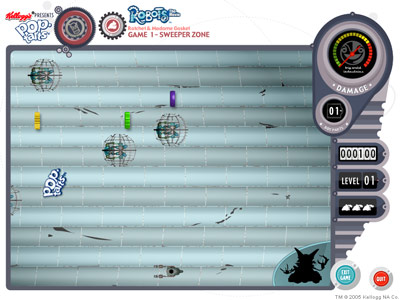 Confusingly, each disc has 2 distinct games (along with a robot building factory activity, and Robots movie promotional material). The second game, which does not receive billing on the CD-ROM, is Chop Shop: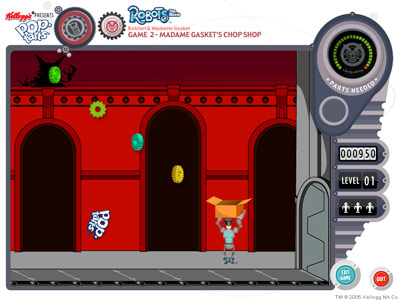 Ratchet must catch the falling junk in his box. Catching the Pop-Tarts logo makes the box wider. It feels like something from an Atari 2600 game and frankly gives a bad name to promotional tie-in games.
The second disc is Rescue The Rusties. Again, this disc actually has 2 games. The one that gets mentioned in the title is quite challenging. The object is to navigate the maze and, well, rescue the Rusties, as well as any imperiled Pop-Tarts logos: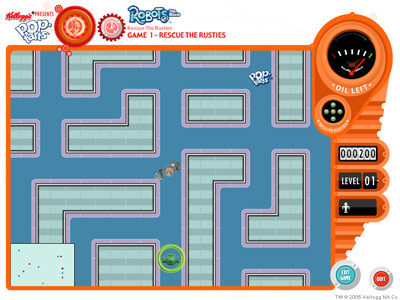 There are malicious robots out to get you but you can slow their pursuit by secreting oil slicks.
The second game is Pick-A-Part, a match-3 game! Yes! I'll have you know that I am well on my way to becoming a grandmaster at this type of game thanks to my continuing practice at Magic Match. The goal of this game is to keep the gears away from he roving robot at the bottom of the screen.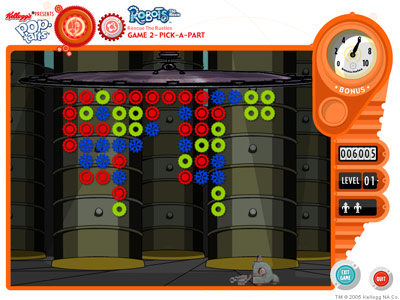 Even with my considerable skill, I couldn't complete the second level at this game. Back to Magic Match, I suppose. It should be noted that Pop-Tarts logos were absent from this last game.
The other game in the series is Rodney Copperbottom And The Robot City Heroes. And I think you know that I am willing to expend considerable effort (well, I'll frequent thrift shops and eBay anyway) in order to obtain it, along with the other prized Gap Kids game.
See Also:
At MobyGames: