Yep, one more. Another Barbie title that I overlooked during my Barbie gaming spree back in January. Honestly, I don't know why I even bother to keep a spreadsheet of all my games if it can't even help me keep track. MobyGames needs to have complete information on every Barbie game under the sun, and my sources indicate that we aren't even close to being done.
So Barbie dons her fins and takes to the water in Barbie Mermaid Adventure. There are minigames aplenty, starting with the cuddlefish game (not to be confused with cuttlefish, at least, that's what I'm asserting). The goal is to rock them all to sleep. If you pass by one that's already snoozing, it will wake up. So there's a little logic at work here.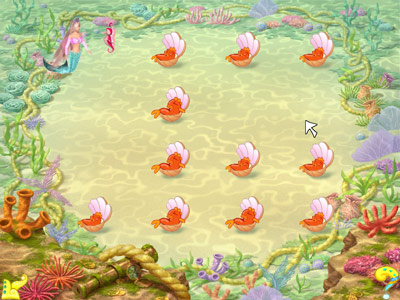 These Barbie games (and Macromedia Director-based, kid-targeted games in general) are highly formulaic. So here's the formula for Mermaid Adventure:
3 levels, each of which has:
1 rainbow dolphin
2 minigames
3 musicians
The goal of the game is to prepare the big party. In each of the 3 levels, find the rainbow dolphin. Before you can do that, you must complete the 2 minigames for the level. And while you're at it, contact each of the 3 musicians jamming in that level.
Here's another minigame, where it's necessary to match 8 pairs of fish as they float around: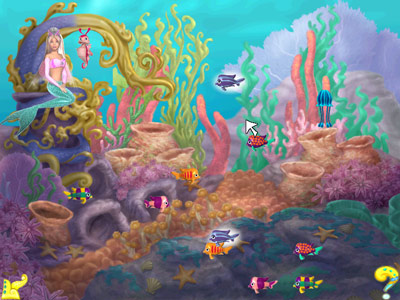 This game leaves me undecided about the aquatic doll — she's either the most easygoing individual ever when faced with enormous stress, or she is a remarkable airhead who doesn't understand priorities. The opening movie sets up all the problems (complete with all the juicy data I will need for a perfect MobyGames entry, which I managed to furiously transcribe, and I appreciate it was all explained right there in one place): We're going to have a big party today with a carefully choreographed dance number to live music. But we need to personally invite the 9 musicians so that they can play — we'll work out the music later. Oh, and the magic shell of light in the theater just broke. And that's why we need the magical trio of rainbow dolphins — only they can repair it (I wanted to make a comment here about rainbow tuna nets but it's late and I just can't figure out a way to make it fit).
And Barbie still has time to spare to cheerfully listen to a clownfish tell silly fish jokes. I wager there are times when Barbie wishes she wasn't so good with animals.
So while there should be 6 minigames, mathematically, there are actually only 4. There is one unique game per level, but one maze in each which Samika the Seahorse must complete. The goal for each of these mazes is to obtain something else for Barbie to wear at the party. I was a little stunned when I saw these boxer shorts: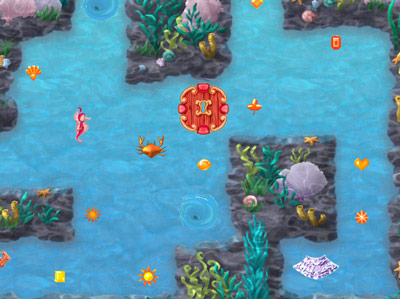 Barbie assured me the item was actually a necklace. Naturally, there is an activity where you can decorate the necklace as well as earrings and a crown using the seashells collected throughout the adventure. Another non-game activity is to jam with the musicians.
One more minigame, and this one was predictably fun. It's hard to go wrong with a Breakout clone which is what you must play to, well, save the whale: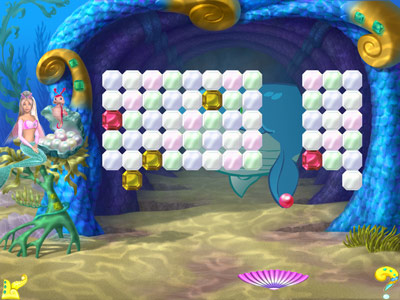 See Also:
At MobyGames: