I have been trying to play some games recently but I have been discouraged by the creeping, non-fun sensation I get when I realize that I'm duty-bound to do a bunch of writing afterwards. That's right, I seem to have finally hit that wall where playing these games is no longer any fun. Still, I have a goal of hitting 10K MobyGames contribution points before the year is out. And at this point in the experiment, you had better believe I understand the most efficient way to get mucho points off of a single game — by exploiting any given Macromedia Director-based game. Why? For these reasons:
They are often spec'd to run on 2, sometimes 3 platforms (Windows 95, Mac, and sometimes Windows 3.x).
I usually have a full cover art set of 3-5 scans.
The games are easy to blow through in a 1/2 hour and I can get a complete description of the game and a diverse set of unique screenshots, usually 20-30.
These games nearly always neatly roll their credits. Enter them for one platform. Once approved, easily copy & paste them for the other platforms.
These games are often produced by obscure, one-hit wonder-type companies that only ever produced a game or 2 before learning the hard way that the road to riches isn't paved with cheap CD-ROM entertainment. The companies often aren't in the database yet for this reason.
For all of these reasons, Babes in Toyland recently netted me well in excess of 100 contribution points.
With that, allow me to present the Director-based game, Hunchback of Notre Dame.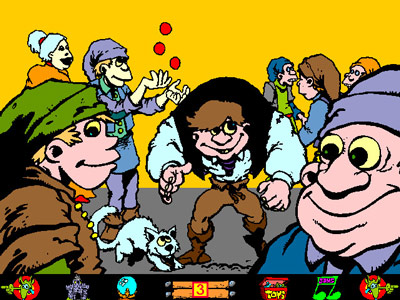 Published in 1996, this title is not based on Disney's movie from that same year. Indeed, today's specimen might be termed in some circles as a knock-off, but is it really? Disney does not actually have exclusive rights to the Hunchback story, only certain characteristics unique to their telling.
Anyway, this game consists of 4 minigames — rather abysmal minigames, I should note — based around the artwork shown in the story. The main attraction is the interactive storybook. Pages are shown as above. A text overlay is shown onscreen with part of the story. A narrator reads the text while segments are highlighted so that the user (presumably a young child who is disappointed that this game is not based on the real deal from Disney) can follow along. There is also a produced song that the user can opt to listen to. It comes off as something from an easy-listening radio station. I suppose it could very well have been the lead radio single from the Disney Hunchback.
This is one of the minigames, Make-A-Match: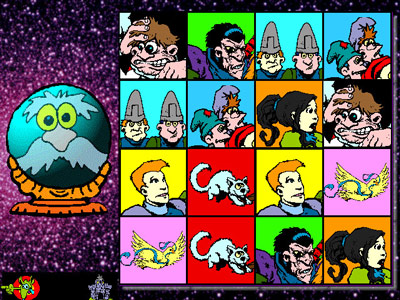 You recognize the concept– the card-matching memory game. This variation is unique in that it gives the player as much time as desired to study the board before covering it up with rocks. Another game called Ring The Bell is yet another memory game where the player must remember and replay and sequence of bell tones.
This was the worst game for play control reasons: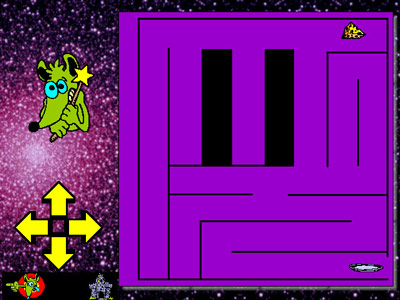 It is called Rat Maze and what makes it so bad is that you have to click on the arrows on the left in order to move the cheese. The problem is that the underlying input mechanism wasn't programmed in a very future-proof manner and even the speediest mouse click will send the cheese bolting to the opposite end of the maze.
This last item counts more as an 'activity' than a 'game' — Gargoyle Builder. Build your very own gargoyle from various colored body, arm, and head styles. Then you can press the 'dance' button to make him, well, spasm uncontrollably: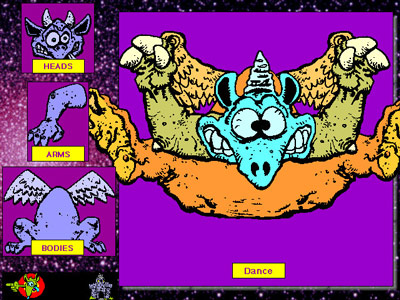 I admit that I have not read the original Hunchback tale (I didn't even sit through all the pages in this animated storybook), though I did see Disney's 1996 film (which, as an unabashed fan of 1990s animated Disney fare, I thought was an extraordinarily mediocre effort, save for the soundtrack). I did a text search for the word 'gargoyle' in Wikipedia's entry for the story and came up empty-handed. Could it be that this game was brazenly ripping off that aspect of Disney's creative license? Perhaps the people who developed this game didn't read the original story either, but just saw the Friday premiere of the 1996 film and worked all through the weekend on this treatment.
This all reminds me of an old Suck.com essay called Faux Film Festival:
It's a familiar, horrifying scenario. An exhausted parent in a video store or supermarket sees a videotape packaged for sale. The tape boasts a familiar title — Aladdin or The Hunchback of Notre Dame — and an attractive sticker price. Upon arriving home, the tape is proffered to media-savvy children, who immediately proclaim, in loud, whiny voices, "This isn't the real Aladdin."
The article notes that Disney lost a lawsuit to try to block such knock-offs. This might help to explain why, in recent years, they seem to have moved away from adapting traditional (read: public domain) stories (the last I can recall is 1999's Tarzan) and more towards new properties (like The Emperor's New Groove and Lilo & Stitch).
What floors me the most about this game is that the guilty parties still seem to be in business: Peter Pan Industries, the publisher, is still around and is still ripping off everything Disney does. Amazing. Check out their catalog. They have, not one, but three episodes of The Little Cars (see Disney's Cars). There is also Ratatoing, which I strongly suspect is influenced by Disney's Ratatouille.
The game was developed by Right Angle, Inc. who has a portfolio to show for their 14 years in operation. This game, however, is not showcased.
At MobyGames:
See Also: