I'm not familiar with Disney's 1999 animated feature film Tarzan. But that turns out not to be strictly necessary in order to follow Terk & Tantor Power Lunch, another in Disney's Hot Shots series of casual games. Terk is a gorilla and Tantor is an elephant; they are your hosts for this game, only present to do their best to explain the gameplay and then crack jokes at the start of each level. I say "do their best" because the gameplay is just a tad baffling.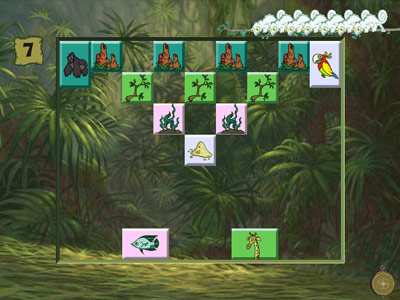 What we have here is a block smashing game of a type that I have never seen before. It works like this:
A particular board has, at the very least, some number of animals along with food items that that particular animal eats
The player begins with 8 chameleons
A chameleon takes the field and rolls into a ball, initially white
The chameleon bounces up and down between the boundaries
The player presses left or right to alter the longitudinal path along which the chameleon is currently traveling
When the chameleon touches an animal, he turns the color of the food that the animal prefers (monkey turns the chameleon yellow)
When the chameleon turns a particular color (like yellow), he can then touch and collect blocks containing the same colored food (like banana)
Got that? It didn't make much sense to me at first. But I kept at it, mostly because there is nothing really to stop you throughout the first 5 or so levels. Like any casual game, I eventually got the hang of it and even started to wonder how far I could possibly get. Hey, it takes some strategy after awhile. Turns out that 23 levels (out of 50 total) was my limit when Kerchak (a gorilla antagonist from the film) puts an end to my remaining chameleons: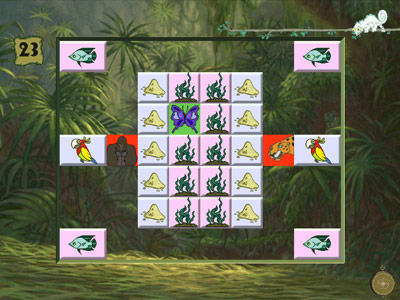 The boards also have cheetah and sloth powerups (or powerdowns, depending on what you need at the time) that speed up or slow down the chameleon, respectively. The there is the butterfly block which, when used properly, can eliminate a lot of food on the board at once.
So that's the game portion. Tech support time. Installing this game was a comedy of errors, which is especially strange since the Lion King Hot Shots games seemed to work quite well, and they were released before this game. First, it presented me with this dialog upon installation, demanding to know the region in which I purchased the game:

Note that the default selection is blank. Thus, the game feels it only appropriate to respond with a blank dialog message:

After I got past that, I encountered this minor incongruency between operating systems: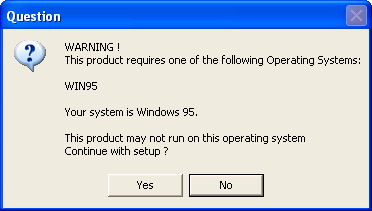 See Also:
At MobyGames: