As always, I have a huge stockpile of educational games that are conspicuously absent from MobyGames. DJP Mom and I continue to answer the call. Tonight, I attacked 2 different, early Macromedia Director games. In both of them, I felt that something was missing. Like, animations. Both games wanted archaic versions of Apple QuickTime that I was unwilling to install. Some games fail to run if they don't get their desired versions of QuickTime. Tonight's pair just silently refuse to play animations which makes certain junctures a bit confusing.
The first of the pair is Wishbone and the Amazing Odyssey. Wishbone — apparently the canine star of a late-1990's, PBS-produced TV show — finds himself washed up on an island where a city is burning in the background (turns out to be Troy). Pieces start falling into place and he figures out that he seems to have taken on the role of Odysseus in Homer's classic epic.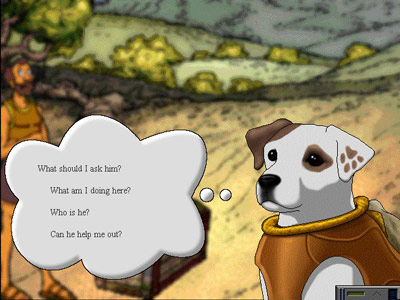 This could have proved to be quite an educational experience (I don't know much about the literature). However, the game kept throwing this error: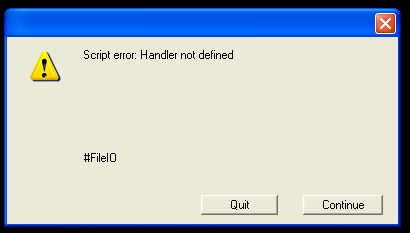 That's "Script error: Handler not defined … #FileIO" (reproduced textually for the benefit of search engines). That prohibited me from getting too far into the tale. Too bad, too, because the credits go on for pages. A lot of people really wanted to make this game successful.
The second game is Fisher-Price Great Adventures: Wild Western Town. It's by Davidson & Associates, which strikes me as familiar. Ah yes: They were responsible for another Fisher-Price licensed title: Learning in Toyland. The first thing to understand about this game is that the game assumes that you might not know how to read. Also, the installation process offers an fascinating bit of nostalgia:

Ah, modems; remember those? Anyway, you're a deputy, the bad guy goes by the name of Bandit Bob and his dastardly crime is hiding gold bars all over town. Your job is to find the gold.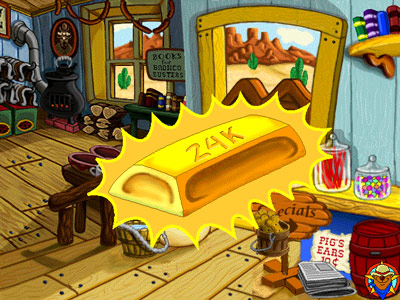 Along the way, there are a number of minigames and other activities, as is customary. This one is the Barrel Boot: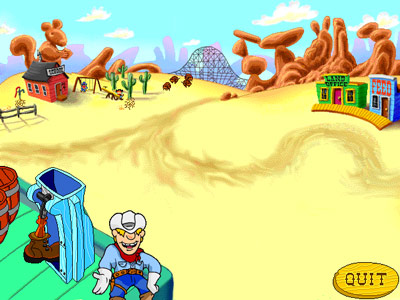 You get to drop barrels into this automatic boot device and launch them at random citizens — and you're the deputy lawman, remember. Hitting a target always has comical, good-natured results in this kids' game. I didn't get the full effect with a number of the targets. The screen would temporarily blank and I could tell that the game was trying to invoke the QuickTime Player to handle a more detailed animation.
See also:
At MobyGames: