Tonight's game is Rockett's Camp Adventures. It comes from Purple Moon, a company that I remember from the late 1990s for the press they received about creating games for girls. I was sure the company would already be in MobyGames, but nope. That means I have yet another forgotten franchise to track down and enter.
Purple Moon published a series of these games that revolved around a girl named Rockett. In this title, she packs her bag for camp and steps into some cliched teen drama the moment she steps off the bus.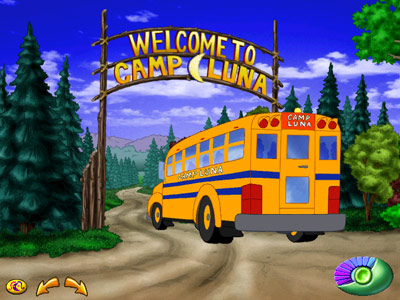 The intro of the game exhibits the campers chanting songs of worship to the camp's namesake, namely the earth's natural satellite. I figured that they may as well be singing to a lunar deity, but then I noticed that Luna is already the Roman god of the moon. This, as well as he ensuing drama may all be part and parcel of the summer camp experience; personally, I have no frame of reference.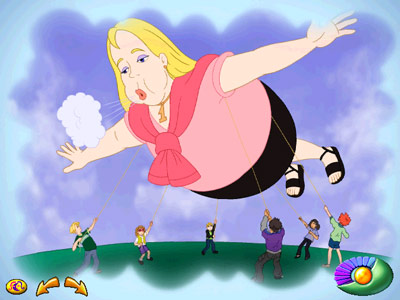 The teen conflict comes in the form on Nicole, ostensibly the spoiled rich girl archetype and anointed leader of "The 1's", the elite clique. It seems that most of the kids also attend the same school since many of them are already familiar with each other (and as I typed that, I shivered from the realization that I would probably learn their backstories when I inevitably procure the other Rockett games). Having left high school well over a decade ago, I finally understand how cliched and unrealistic these portrayals of teen social caste can be. The Nicole character is an over-the-top snob and it doesn't really work. In order for this to reflect teen life as I remember it, she would need to inspire awe and fear in those around her. Much of that fear involves exploiting typical insecurities inherent in other teens. The other teens do not fear her; quite the contrary, they openly mock her to her face, as depicted in the fantasy in the above screenshot.
Forgive the digression into thematic criticism. I will return to the gaming elements now. What there is, anyway. The game is primarily an overblown interactive storybook: Colorful backgrounds with mostly static characters that rarely move. The story proceeds in a linear fashion until there is a pressing realtime decision that the character must make. Well, maybe not realtime. And it's not that pressing, either. It doesn't drive the story in any direction. One such decision is when first encountering the Nicole character– Rockett essentially has the choice to throw her support behind Nicole and her gang of 1's or hang out with her lame friends. No matter how many chances I was offered to snub the uncool kids, the game would not let me choose that path.
There are a number of activities. The first is the canoe race which is not terribly exciting, save for whales, cephalopods and submarines that inhabit this little river. There are no real threats or competition on the river and the only goal is to beat your own time.
I thought the Crystal Caverns game was mildly interesting: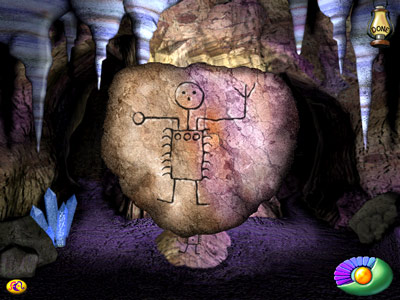 In this activity, the player must navigate through a cavern in 7 stages. At each stage, there is a puzzle to solve that reveals the correct door. The puzzles are pretty much at the level Capcom's Resident Evil series as illustrated by the screenshot above (hint: where does the stick dude's longest arm point?). Some of the puzzles rely on auditory clues. I solved all the puzzles correctly on the first try but there are no real consequences for guessing wrong– the 3D rendered tunnel simply backs up to the same junction.
There are 2 more activities: An arts & crafts activity of making friendship bracelets, and the DJ Mix Maker: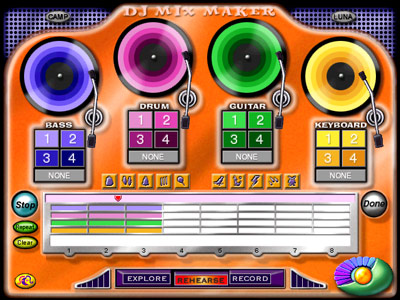 It's a 4-track studio application and reminds me a lot of 4-channel Amiga tracker modules (MODs). That made me happy. I often observed that many MOD composers used the 4 channels for beat, bass, chords, and melody. This application basically enforces that same structure, though the budding composer has 10 sound effects to choose from as well.
Rockett also has a little PDA along for the trip (which would have been quite special in 1999 when this game was published). This thing provides help, a private journal, email from the game, progress status, as well as a callout to a web browser to bring up Purple Moon's website which, surprisingly, is not being squatted upon, though it has been absorbed into a larger Mattel site by now. There is also this research tab which delivers up educational nuggets in certain activities. It provides and describes compass functionality when in the Crystal Caverns (not especially useful, mind you):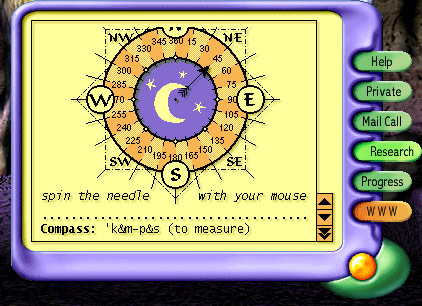 The part that I was fixated upon was the pronunciation: 'k&m-p&s'. Did they mean for the ampersand to stand in for pronunciation characters because they were restricted to a 7-bit ASCII encoding? Or are there font issues? I work on multi-lingual user application software so I'm naturally sensitive to these issues.
I think I've picked on this game's content enough. Tech support time. I would be remiss in my duties as a video game historian if I did not publish notes about problems I encountered, complete with retyped error text for the benefit of Google crawlers, as well as the resolutions I found. The first one involves "Xpat Runtime Engine":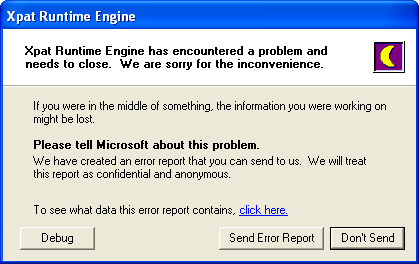 And the second problem I encountered was "Out of memory. can't create message box While executing: MESSAGEBOX – FILEDLG.DLL":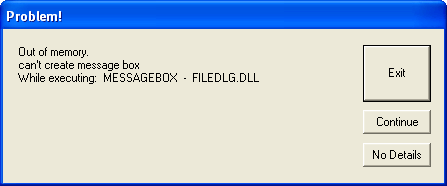 I made both of these problems go away by setting the compatibility mode for the program to Windows 95.
See Also:
At MobyGames: