We're not through with that Gap Game yet. I found this article that revealed the codes for the 2 bonus games on Snow Day: The GapKids Quest The 2 6-digit codes were, in fact, in plain ASCII text in the game executable file. I was sort of expecting something a little more Gap-related.
The first of the bonus games is Skate Race (code: 894367). When I first saw the Pac-Man clone, Snowed In, I fully expected to find this type of game elsewhere on the disc. You've surely seen this countless times– one of the most famous incarnations is Nibbles. You have a character that moves in straight lines collecting items and avoiding obstacles. Each time you collect an item, you leave a longer trail behind you which only becomes one more obstacle. The first time I ever played a game like this was on the Intellivision (I remember now! It was Snafu).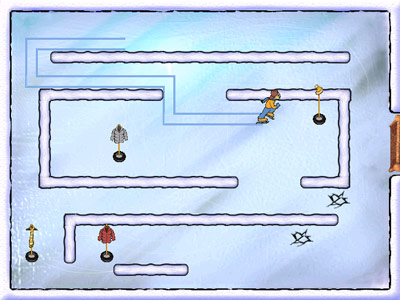 Now for Snowball Frenzy (code: 426985). Finally! Overt kid-on-kid violence. This is a first-person snowball shooter. Snow or be snowed. All of the kids in the neighborhood have playfully decided to gang up on you. Fortunately, it seems to be a fair fight since you are apparently the best snowball slinger in town. The goal is to knock out every kid that pops out from behind every tree, fence, snowdrift and snowman. You have a limited amount of snowball ammunition but you seem to get automatic refills when you run out. You also have a power meter in this game. Sustain a snowball strike and lose health. Fortunately, you can parry snowballs with your own.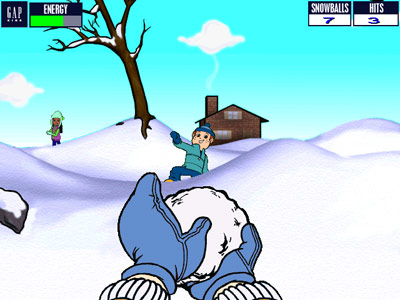 It's worth noting that the children squeal with glee when you take them down. More FPS games need that kind of positive spirit.
So I won a game! I won Snow Day: The GapKids Quest! Sing it from the rooftops! That means I went back and finished all 4 of those Snowed In mazes. It's not so hard once you get a little strategy down. I must contend that those children armed with shovels could take a snowman. But I didn't make the game so I didn't make the rules. The ending shows the group of GapKids enjoying hot chocolate indoors. Wearing their Gap apparel, naturally.
What now? I guess I could try to win the game with the other 3 characters. But I don't think there are any more secrets in this game. When I exit the game after winning it, the game no longer claims that there are more secret codes to wait for.
See Also:
At MobyGames: