It was not a good night for this gaming experiment. I tried out 2 recent acquisitions, the first of which was yet another CD-ROM based on the Beauty and the Beast fairy tale (here's the last game I played based on the same tale). The disc had a series of large AVI files which indicated to me that it may just be an animated storybook. However, one of the non-AVI files explicitly had the word "game" in it. Turns out that the affair is an animated storybook but with a little "Puzzle" minigame. What kind of game? Only the one most hated by me– the sliding tile puzzle: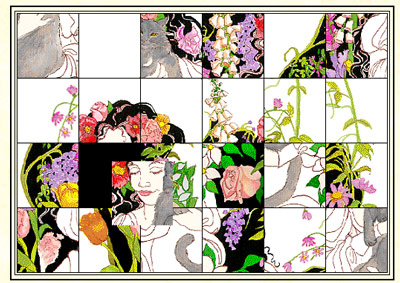 To be fair, it's not actually a strict sliding puzzle game. Perhaps that's what it was originally intended to be, but in this variation, the player can freely move tiles anywhere on the board. So that kind of takes away the challenge and makes the whole thing rather pointless.
I'm not dignifying this title with a MobyGames entry. There just isn't enough meat there. So next up is Crazy Burger, a dreaded eGames title. Can I expect spyware? Fortunately, the game comes from after their great (government-induced) reformation. However, Spybot Search & Destroy caught a system registry access during the game's installation.
Still, the game irks me straight out of the gate. I have seen this type of thing with eGames before, though I think it was called a game browser. Now it's a Game Butler: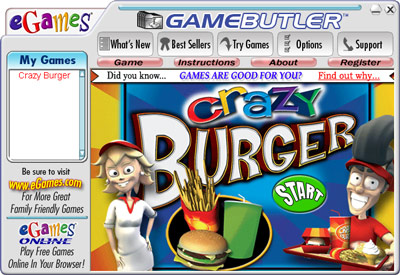 After installing the game, I am left a little confused about whether I can actually play the game, whether it actually needs to download itself from a website, whether it's going to try to charge me for the privilege. But no, I eventually discern from the busy panel that I can click on "Crazy Burger" from the list box control on the left.
I was half-expecting some kind of 3D Burgertime-type game written in Visual Basic. By the time I got this far in the process, I was annoyed enough that I wanted to forgo the game's entry into the database just to spite the game. The game is not a Burgertime clone, however, which is too bad– I liked Burgertime.
Instead, the game is a highly repetitive casual action game with a single, highly repetitive song. I probably could have dug around to shut it off, but what can I say? I was too busy trying to make a go of the game. The thrust is thus: You are the lone employee of increasingly complex and busy fast food establishments. You must serve a variety of impatient customers by making food with miraculously fast kitchen equipment. Even with the remarkable technology at your disposal, the red-faced fellow below is getting awfully mad: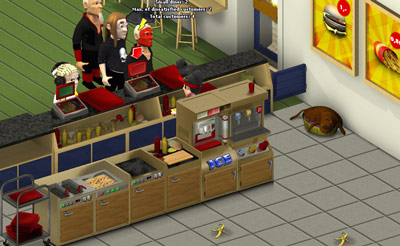 There are obstacles, too, notably banana peels. Don't step on one or you will be out of commission for precious seconds. It may sound like a simple trap to avoid. Unfortunately, the game likes to plop them where you can't possibly see them. There's also an ever-present sleeping dog in the kitchen. I'm almost certain that's a health code violation, but whatever. This game was obviously made by a European outfit, as evidenced by the Euro-style prices on the wall ('1,-' and '0,80'). Health codes are a bit different over there, if my travel memories serve me.
I thought to research the aforementioned European outfit, German developer Zone 2 Media. They have another food-oriented title called Dönermafia. I think it is based on Döner kebap, one of my favorite foods while I visit Germany (and it's not even a traditional German item).
See Also:
At MobyGames: