Hey! Do you need the PDF for Underground Affair? I mirrored it here after rescuing it via the Internet Archive: Spy Kids: Underground Affair. Regrettably, I can't find a copy of the PDF for The Candy Conspiracy.
It's time to put this Spy Kids Learning Adventures series to rest and eat up the free MobyGames contribution points that are basically guaranteed by 2 more Macromedia Director-based games: The Nightmare Machine and The Candy Conspiracy.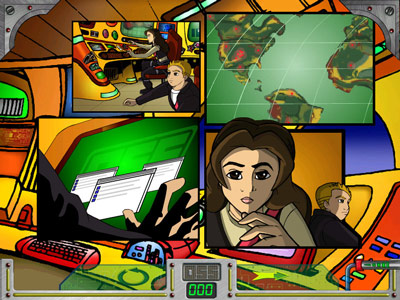 Or not. To review, these Spy Kids games are animated comic book/educational games that each have 8 minigames as well as a supplementary puzzle book whose puzzles must be solved and the corresponding codes entered at certain junctures in the storyline (for example, in order to gain entry into the enemy's base; now why does the spy service's computer control the codes for the enemy's base?). Each puzzle book has 14 puzzles which remain largely the same from episode to episode. But there is consistently 1 or 2 that trip me up, usually the word unscramble. There is also the word search, which is not difficult, just tedious; most of the puzzles can be solved in under 30 seconds, but the word search requires finding about 30 words in a letter grid, then using the uncircled letters to yield a code phrase, key letters of which yield the final 4-letter code word.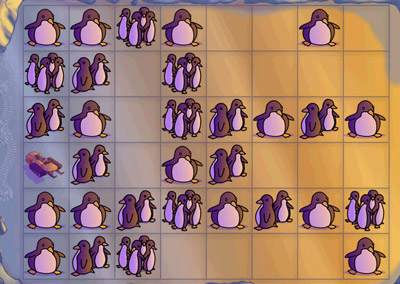 And if the weird puzzles didn't stop me, the baffling minigames sometimes would. The previous minigame is Penguin Path from The Nightmare Machine. You need to toss fish into unoccupied squares in order to goad the flightless birds into moving. There's a pattern to how the penguins move, and how to determine which will occupy the square after several penguins rush to it. I never figured out the pattern, but I still got through by focusing on moving one bird at a time.
All the series games seem to have a pair-matching minigame, so I got lucky there. Well, notwithstanding that the games have 20 pairs to match on the medium difficulty level. As in previous games in the series, I often chanced my way through certain minigames, never really figuring out what was going on. Such was the case with Epidemiological Excitement!, my pet name for Incident Reports from The Candy Conspiracy.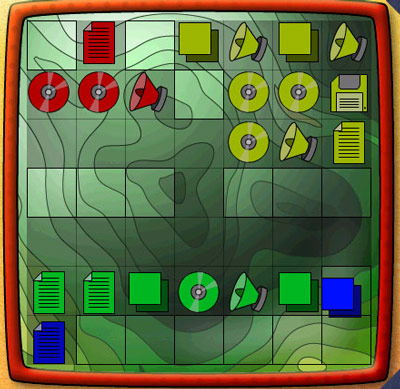 The thrust of this game is to study incident reports to find the center of an outbreak of odd behavior wherein young people are eschewing playtime in order to focus on studies and chores. Unfortunately, while I bumbled through this puzzle once and made it past the next 2 minigames, I soon faced the third obstacle — random game crashes. And when I restarted, I had gotten over my beginner's luck with this game.
Again, if anyone should need the solutions for any of the puzzles, see below in the entry. (Extra credit: Download the PDFs and solve the ones that I have — ahem — been too lazy to solve. Yeah, that's the ticket. Too lazy, or else I would solve them. Or to just check my work, if you're up to it. The games ask for codes randomly, so I have not been able to verify each one by entering it.)
Spy Kids Learning Adventures: Mission: The Candy Conspiracy
Solutions for missions (puzzles) 29-42:
Crossword: QUIP
Number block: 2390
Word ladder: MELT
Maze: 8408
Fallen phrase: FARM
Math crossword: 7126
Double double puzzle: ??
Word values: CHIP
Number trail: CRAM
Phone trace: CATS
Word merge: KEPT
Mapping: 8642
Word search: YARN
Number code: FILM
Spy Kids Learning Adventures: Mission: The Nightmare Machine
Solutions for missions (puzzles) 43-56:
Crossword: VINE
Number block: 3296
Word ladder: DIPS
Maze: 3414
Fallen phrase: WIND
Math crossword: 4397
Double double puzzle: ??
Word values: PULL
Number trail: DUEL
Phone trace: SIRE
Word merge: SLED
Mapping: 4531
Word search: WIRE
Number code: GOES