Another in the series of Super Target dollar-specials, Ski Jumping 2004 doesn't really sound like it would be all that involved. This turns out to be the correct assumption. I'm beginning to believe that these dollar games are little more than AOL delivery vectors as evidenced by the typical dialog presented as soon as you pop the CD into the tray: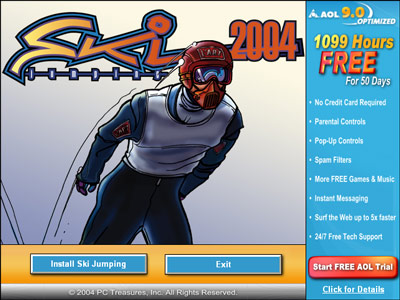 The game is all about ski jumping. Don't get me wrong– it's based on a quite nice 3D engine and the programmers obviously know everything there is to know about the raw physics of ski jumping and have modeled them accurately. There are plenty of customizable parameters such as mountain, weather, and night vs. day run. But at the end of the day, it's still a game about ski jumping. If that's your thing then this is definitely the game for you. I admit I learned a lot about the mechanics of ski jumping and the support structures and layout of the runs. But after about 10 minutes I was prepared to move on. Though not before configuring the most terrifying run I could possibly engineer:
K185 mountain (185 meters, apparently, and the biggest K-number in the game)
wind from the side, and strong wind as well
icy snow
raining
night jump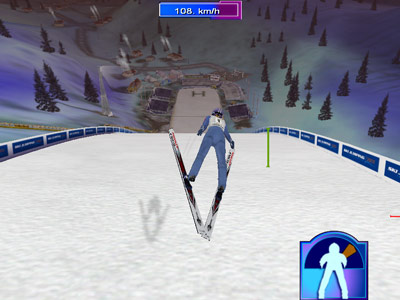 Despite all that, I still couldn't kill my player. The falls aren't even that spectacular, at least not nearly as exhilarating as some I've been watching on YouTube today to bring myself up to speed on the sport and to verify the authenticity of this game.
Some other miscellaneous notes:
The game has a tutorial mode that laboriously walks you through each maneuver you need to master– the jump, the period of time when you coast through the air, and the landing.
Pictured above is the realistic mode. There is also an arcade mode which confused me because I was just watching other competitors jump. I wasn't sure if I was supposed to get a turn or not.
There are also networked multiplayer modes. I should hope this entails 2 skiers launching down the same run at the same time and trying to sabotage each other.
Certain screens kept demanding the CD and then bailing out. Fortunately, they were fairly inconsequential screens like credits.
The game makes heavy use of Ogg Vorbis files for audio (nearly 700 of them). My open source multimedia hacking readers will be interested to know that.