I told you I would revisit that Skateboard Park Tycoon game. I thought tonight would be a good night to do that thanks to the resoundingly dull experience with last night's sim, Restaurant Empire (which, to be fair, I will probably revisit as well because I just feel that it should get better). There was at least one facet of SBPT that I had not yet experienced and that was the actual skateboarding action. Before I got into that, I wanted to try my hand at a new game and build from scratch with a fresh cash allotment.
There are three properties to choose from at the start, differing in quantity of real estate. There are also three difficulty levels to choose from: Easy starts you with $50K, medium is $10K, and hard is a measly $5K. It's a good thing I started on easy again since once my park really got rolling, it seemed to hover in the neighborhood of $35K.
One of my first projects was to lovingly craft this monstrosity: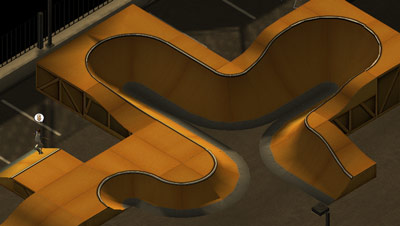 It looks sort of neat but scarcely any skater wanted anything to do with it, save for the platform on the lower left corner of the picture. That was an expensive lesson learned for when I start a new game.
5 days into my park's operation, my first skater showed up. I'm not sure how that compares with my last game when I wasn't really watching (and when I thought the skater was a mouse and tried to squish it). I sprinkled a variety of support structures all around the park which seem to satisfy the customer base. I also used the zoom feature (via the mouse scroll wheel) — something I discovered late in the game during the previous investigation — to great effect which allows me to have much more control over placement of objects. I created a network of railings of varying elevations in one corner platform which saw a fair amount of use. I also created what I would later refer to as the pain pit: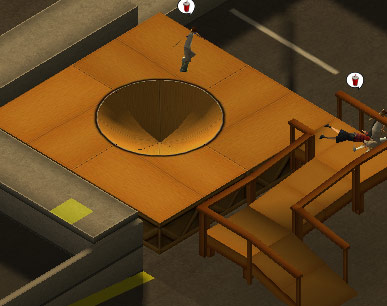 Ironically, this actually fulfills my initial goal laid out in my first SBPT post– to make sk8rs hurt. It seems to be immensely popular despite the fact that about 95% of the patrons go flying off into the pile you see on the right side of the picture. They dust themselves off and, like moths to the flame, come back for more.
But I finally started to hit my stride when I constructed this attraction: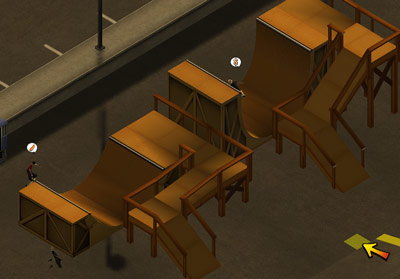 I forget what it's called, but I was careful to make it in 2 sizes because the manual emphasized that you needed to cater to a variety of skill levels. Indeed, these structures saw significant use. Another statistic the game provides is how much patronage each skating structure is receiving.
With much apprehension, it was finally time to try skating. Just like the main simulation part of the game, I wish I had tried the skateboarding portion earlier.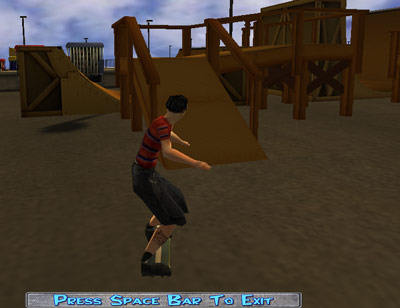 It's not so scary after all! Actually, it's extremely rewarding to be able to skate around and explore the park that you have carefully crafted using this 3D perspective. Above is my commandeered skater about to head up the ramp to the popular skating structure. I didn't have time to try much in the way of tricks. I guess I can look forward to devoting at least one more gaming evening to this title.