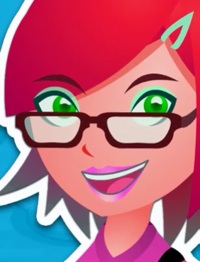 I was struggling to find some halfway decent game to play today, especially after the Outpost bust. Given the kind of games I collect, I wasn't very hopeful. I turned my attention back to my iPod Touch. I have a whole bunch of iPhone/iPod Touch games but I haven't been terribly motivated because few of them are at all special. But then I finally decided to try a pair of games that were on sale some months ago — Sally's Salon and Sally's Spa. These games have reminded me of the importance of giving a new game a fair shake no matter how inane it might sound from the instructions.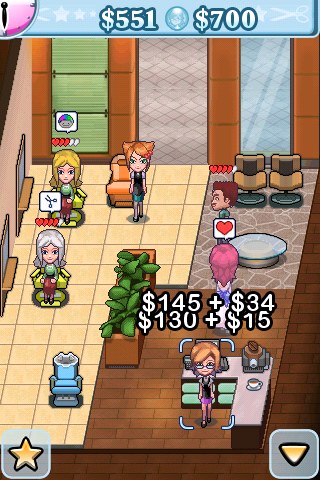 Chronologically, the Salon game comes first (not that it matters much). Sally has a dream about starting a successful salon and you're going to help her. The reason the game sounds so trifling — and I have this problem with a lot of iPhone games — is that the physical unit does not allow the player to do very much. Customers come in and wait while they have little pictorial balloons over their heads indicating what services they would like to purchase. To grant these services, tap on the customer, which causes them to march over to the correct beauty shop station. Tap on the customer to walk over and service their head. Certain things, like haircuts and colorings, require customer feedback as you iterate through possibilities and read the customer's smile or frown as to whether they want that style.
As I read the instructions and marched through the tutorial, I could feel myself dozing off and my finger creeping toward the home button of my iTouch. But I stuck with it for a full round and decided I quite enjoyed it. So after playing through enough levels, I was eager to jump into Sally's Spa.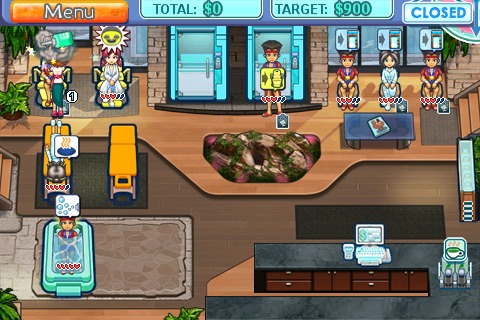 Strangely, the instructions here nearly put me off as well, but for a different reason– while I was expecting pretty much the exact same game, I instead got one that was pretty similar but had a few more things to keep track of. Essentially, I was afraid the first game would be too brainless and that the second would be too mentally taxing. There's just no pleasing me.
In Spa, Sally is taking a vacation to a beach resort after being wildly successful in creating a salon franchise when her friend informs her of a void in the local spa market. Our entrepreneur can't pass up the opportunity.
The spa has more stations for customer satisfaction. Your friend also sells you items to sell through your spa (skin cremes, hair conditioners, etc.) which you can stock based on the weather.
In both games, Sally can purchase upgrades for the salon or spa. These might be waiting area amenities (more comfortable chairs, coffee machines, or outrageously expensive magazine subscriptions), more facilities and facility upgrades (like a spa that helps customers relax twice as fast), or the hiring of assistants, such as the spa jet operator here: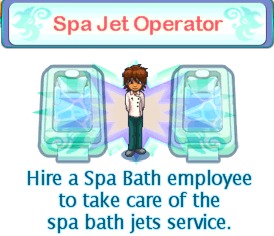 I can tell you that the spa jet operator has to be the most worthless hire in the game. When moving customers to the spa, sometimes, they just want the bubbles, and this monkey can push the button to make that happen. But the customers nearly always want some colored bath bomb which only I can administer for some reason.
These games both fall into a category called time management games, simple and addictive. It should also be noted that these are also available for the Nintendo DS and Windows, and that they are published by Real, the people behind the RealPlayer. Did you even know they still exist?
See Also:
The Good — I like both of these games enough that they're going right on my "good" list
Crazy Burger — another time management game
At the Apple App Store:
At MobyGames: