Safari Kongo sounds like another nice, lighthearted, kid-targeted, educational title. I was negligent not to notice the eGames logo on what looks like an OEM bundle CD-ROM. You may recognize the company name if you have ever perused the cheap CD-ROM section at a computer store. I have had a not-entirely-pleasant experience with one of their games so far. A game called Kid Mystic promised to be a delightful, possibly Zelda-type adventure. I'll never be able to tell for sure since I have never, ever gotten it to run on any kind of actual Windows system, emulated Windows system (WINE), or virtualized Windows system (VMware). I'm a little more paranoid due to the fact that installing the game leaves behind some suspicious, spyware-looking files.
The game offers localization for U.S. English, German, French, Italian, Spanish, and Portuguese, offering a small clue about where it was marketed. Safari Kongo also has video configuration options to select between 3Dfx Voodoo or Banshee cards, software rendering, or "other card". The instructions claim that it is an OpenGL game. So why does the game complain that it can't find a adequate version of Microsoft DirectX installed and then bail? At least I collected a splash screen: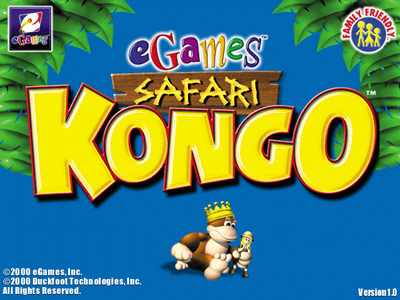 The story of the game is that you are on safari with your significant other who is abducted by an uncannily Donkey Kong-looking monkey. Rescue him/her (configurable gender) before dinner time (the primate's dinner time). It's a colorful, 3D jumping adventure (according to the screenshots in the online help manual) featuring exceptionally little violence in keeping with eGames' company charter. The game also looks to be written in Visual Basic (OpenGL libraries for VB? why not).
So I run Spybot Search & Destroy for good measure. It seems that there is a file called tsad.dll that was coincidentally installed right around the same time this morning that I installed Safari Kongo. tsad.dll is Conducent TimeSink, a module that spyware tracking sites claim is a conduit for tracking user behavior and delivering targeted ad campaigns. After I fight with the game long enough, I go ahead and remove the module. This causes the game to throw the following error on startup: "Run-time error '53': File not found: Addon2VB.DLL".