Yeah, it's been a bit slow the last few days on this blog. I've been working on a few non-gaming commitments recently. Plus, I thought I would give the MobyGames approvers a chance to catch up on submissions. My most recently approved entries are:
And as if I didn't have enough games to work through, some of those eBay-ordered games referenced last week arrived tonight. I'll have you know that I did sit down and play that Sabrina: The Teenage Witch game briefly. Though it sounded characteristically lame and therefore well-suited for this blog, it seems that a bunch of my IM buddies have fond memories of the show on which the game is based, or at least were infatuated with the show's star, one Melissa Joan Hart. Apparently, I'm the only one completely ignorant of this show's premise, stars, and characters.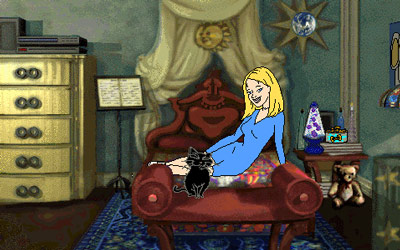 I didn't say I spent a whole lot of time on the game. Maybe 10 minutes total. It's another Macromedia-driven, kid-targeted game. I hate to admit it, but even these are starting to wear on me, or I might just not be in the mood tonight. The disc didn't come with any instructions, nor was there a manual on-disc. I knew that didn't matter– these games always verbally explain the game as you go along. The game chronicles your quest to become a witch like Sabrina. You start out with your witchcraft learner's permit as a stepping stone to your full-fledged license. You have to successfully complete 7 spells to earn that distinction. Your first opportunity to do this is when Sabrina's treacherous black cat, Salem (aside: why would the pet be named after the town synonymous with burning witches?), tricks Sabrina into turning herself into a pumpkin. Undo this spell by looking up the spell recipe and searching her room for the ingredients.
And, well, I suspect the game continues along that same formula for some time afterwards. And I'm afraid I will find out sooner or later.