As a big fan of the Resident Evil series of games, I was a tad befuddled when I encountered this out in the real world: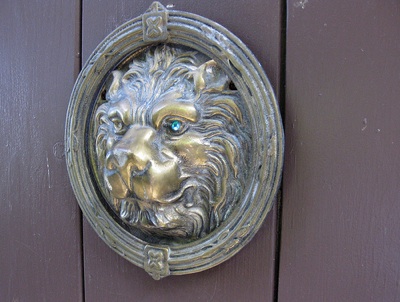 I pass by this gate on one of my regular workouts. Every time I pass the gate, I wonder… am I expected to take the jewel in the eye? Or am I supposed to look around and find a matching red jewel for the other eye? Shouldn't there be a piece of paper somewhere nearby which explains this? What kind of hoops do I need to jump through in order to procure that piece of paper? And most importantly, what are the consequences of completing this puzzle? Can I expect zombies to spring up? From inside the gate or behind me outside the gate? I need to advance this story somehow.
As an aside, I have been meaning to bring my camera along to photograph this odd gate but keep forgetting. Then I recall that this exists in one of the most thoroughly photographed cities on the planet and a simple Google image search can reveal any square inch that you're looking for.
See Also:
At MobyGames: