All I know about Radio Active is what it says on the CD-ROM: "The Music Trivia Game Show." I really hope that covers pop music from the 1980s and 1990s or I'm sunk. I eventually learned that the game covers trivia on music from 1961 to 1985, so I might have a fighting chance on the later part of the period.
The game allows up to four players to compete in this music trivia game show scenario. Each player selects an avatar to represent them. The avatars are a selection of brazen stereotypes reliably overacting. It works. You have the rebel, the cheerleader, the pirate, the cover girl, and 12 others. Name your player and move on to answering trivia.
The gameplay consists of spinning a wheel, hitting a category, and answering a trivia question. The categories generally define musical time periods, e.g., 61-64. This game is not Y2K compliant. Usually, it's a textual trivia question with one answer you must select out of 16, which makes guessing quite difficult as you can well imagine. I don't fare too well at 60s or 70s music question but then luck out with an 80s question when "Deadhead sticker on a Cadillac" sounds familiar: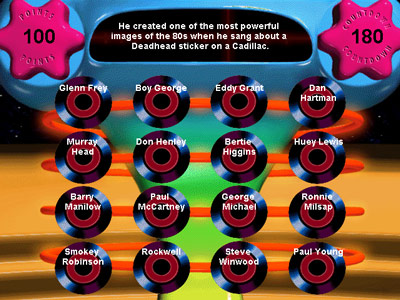 You get one chance to mess up, too. If you answer a textual question correctly, you get a trivia round with a musical melody you must identify. Sometimes, you hit the video category on the big wheel. This is when the game shows you a video of someone who worked closely with a musician and tells you clues about who the musician is. Further, every third round is an extended round where each question has 3 possible answers instead of just the 1. Bonus points galore.
Call me lame, but I can actually envision this game being fun in the right company. However, don't spoil the game for yourself by poking around in the CD-ROM. The filenames of the QuickTime files sort of give away the answers (e.g., "MCHAMMER"). And this was the avatar I chose, the Rebel: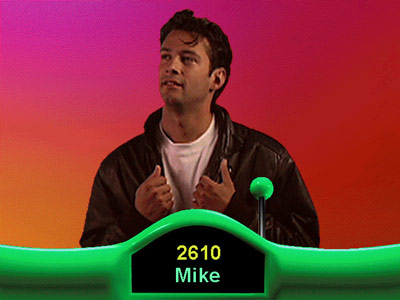 Enough music trivia, let's talk about multimedia tech trivia. This game uses (or used) QuickTime v1.1.1. Talk about vintage! Thankfully, I didn't have to downgrade QuickTime like I had to do with certain other games. What kind of codecs were in use in the first version of QuickTime? According to the files on this disc, Apple Graphics (SMC) and Cinepak.
See Also:
At MobyGames:
Here's a curious feature of the game: I tried to type in my usual gaming name, "Multimedia Mike"; that was a bit long so I shortened it to my backup of "MultiMike". The game complained that it didn't know how to pronounce that. So I backed it off to just "Mike" which is pretty well guaranteed to be recognized, and indeed it was. The game proceeded to verbally address me as Mike. As I played the game I became curious about the mechanism it used to judge the validity of the names. Did it perform some kind of complicated character or phonetic analysis on the names to be able to sound them out? That sounds awfully hard. But the only alternative would be to have a dictionary of common names and prerecorded samples vocalizing each. I was going to start poking at the game to see what kind of names it would accept. But instead, I just opened up the main game data file and went hunting for text strings containing my name.
It turns out there are 761 valid names. I counted them by using a text editor to sum the number of quote characters and then divided by 2. I extracted them all and have listed them in the remainder of this post. Did your name make the cut?

Namelist = [
"AARON","ABBY","ABE","ADAM","ADRIAN","ADRIANN","AL","ALAN","ALBERT","ALDEN",
"ALEX","ALEXANDE","ALFRED","ALICE","ALLAN","ALLEN","ALLISON","ALLISTE","ALMA",
"ALTHEA","ALVIN","AMANDA","AMBER","AMOS","AMY","ANASTASI","ANDRE","ANDREA",
"ANDREW","ANDY","ANGEL","ANITA","ANN","ANNABELL","ANNE","ANNEMARI","ANNETTE",
"ANNIE","ANTHONY","APRIL","ARCHIE","ARIANNA","ARIEL","ARLEN","ARLENE","ARNIE",
"ARNOLD","ART","ARTHUR","ASHLEY","AUDREY","AUGUSTA","AVERY","BARB","BARBARA",
"BARNEY","BARRY","BECKY","BEN","BENJAMIN","BENTLEY","BERNADET","BERNARD",
"BERNIE","BERT","BETTY","BEV","BEVERLY","BILL","BISHOP","BJ","BLAIR","BLAKE",
"BOB","BOBBY","BONNIE","BORIS","BOYCE","BOYD","BRAD","BRADLEY","BRAINS",
"BRANDON","BRENDA","BRENDAN","BRENDON","BRENT","BRETT","BRIAN","BRUCE","BRYAN",
"BRYCE","BUSTER","BUTCH","BYRON","CAL","CALVIN","CAMILLE","CANDACE","CANDY","CARL",
"CARLA","CARLOS","CAROL","CAROLE","CAROLYN","CARRIE","CASEY","CASSANDR","CASSIE",
"CATHERIN","CECE","CECIL","CECILIA","CHAD","CHARLES","CHARLIE","CHARLOT","CHERYL",
"CHIP","CHRIS","CHRISTEN","CHRISTIN","CHRISTOP","CHUCK","CINDAL","CLARK",
"CLIFFORD","CLIVE","COLEEN","COLIN","CONNIE","CORA","CORALI","COREY","CORINNE",
"CORRINE","CORY","COURTNEY","COVERGIR","CRAIG","CRYSTAL","CURT","CURTIS",
"CYNTHIA","DAD","DAISY","DALE","DAMIAN","DAMON","DAN","DANA","DANIEL","DANIELL",
"DANNY","DAPHNE","DARCY","DARIA","DARLENE","DARREL","DARREN","DARRYL","DARYL",
"DAVE","DAVID","DAVINA","DAWN","DEAN","DEBBIE","DEBBY","DEBORAH","DEIRDRE",
"DENISE","DENNIS","DEREK","DERRICK","DESBELE","DEWEY","DIAMONDS","DIANA",
"DIANE","DILLIAN","DINAH","DIRK","DOLORES","DOMINICK","DON","DONALD","DONLYN",
"DONNA","DOREEN","DORIS","DOROTHY","DOUG","DOUGLAS","DUAYNE","DUDE","DUNCAN",
"DUSTIN","EARL","ED","EDGAR","EDITH","EDMOND","EDNA","EDWARD","EDWIN","EILEEN",
"ELEANOR","ELI","ELIAS","ELIZABET","ELLEN","ELLIOTT","ELLIS","ELMER","ELROY",
"ELTON","ELVIS","EMIL","EMILY","EMMA","EMMY","ERIC","ERICA","ERIK","ERMA",
"ERNEST","ERNIE","ERROL","ERWIN","ESTELLE","ESTER","ETHAN","ETHEL","ETTA",
"EUGENE","EUNICE","EVA","EVAN","EVE","EVELYN","EWEN","FAITH","FANNIE","FAY",
"FELICIA","FERN","FIONA","FLIPPER","FLORENCE","FORREST","FRANCES","FRANCIS",
"FRANK","FRASER","FRED","FREDERIC","GABE","GABRIEL","GARY","GENE","GEOFF",
"GEORGE","GERALD","GERI","GIL","GILBERT","GILLIAN","GINA","GLEN","GLENN",
"GLORIA","GORDON","GRACE","GRAHAM","GREG","GREGORY","GRIFFIN","GUNTHER",
"GUS","GUY","HAL","HANK","HANNAH","HANS","HARLAN","HARLEY","HAROLD","HARRY",
"HARVEY","HEATHER","HEIDI","HELEN","HENRY","HERBERT","HOOK","HOWARD","HUGH",
"IAN","ILENE","IRA","ISAAC","ISABEL","IVY","JACK","JACKIE","JACOB","JACQUEL",
"JADE","JAKE","JAMAL","JAMES","JAMIE","JANA","JANE","JANENE","JANET","JANICE",
"JANINE","JARED","JASMINE","JASON","JASPER","JAY","JAYNE","JEAN","JEANNETT",
"JEANNIE","JEFF","JEFFREY","JENNIFER","JENNY","JEREMY","JEROME","JERRY",
"JESSE","JESSICA","JETHRO","JILL","JILLIAN","JIM","JIMI","JIMMY","JOAN",
"JOANNA","JOANNE","JOCELYN","JOE","JOEL","JOHN","JOHNNY","JON","JONATHAN",
"JOSEPH","JOSHUA","JOYCE","JUDIE","JUDITH","JUDSON","JUDY","JULIE","JUSTIN",
"KAREN","KARI","KARL","KATE","KATHERIN","KATHLEEN","KATHY","KATIE","KEITH",
"KELINI","KELLY","KEN","KENNETH","KEVIN","KHRISTIA","KIM","KIMBERLY","KIYOSHI",
"KRISTEN","KRISTIN","KRISTY","KURT","KYLE","LANCE","LARRY","LAURA","LAUREL",
"LAUREN","LAURIE","LAWRENCE","LEAH","LEANNE","LEE","LEEANN","LEIGH","LEILA",
"LELAND","LEN","LENNY","LEO","LEON","LEONA","LEONARD","LEROY","LESLEY","LESLIE",
"LESTER","LEVI","LEW","LEWIS","LILY","LINCOLN","LINDA","LINDSAY","LIONEL",
"LISA","LIVIA","LIZZIE","LIZZY","LLEWELL","LLOYD","LOIS","LORELEI","LOREN",
"LORENZO","LORETTA","LORI","LORIN","LORNA","LORRAINE","LOTTIE","LOU","LOUIS",
"LOUISE","LOWELL","LUANNE","LUCAS","LUCIA","LUCILLE","LUCY","LUISA","LUKE",
"LUTHER","LYDIA","LYLE","LYNDA","LYNDON","LYNETTE","LYNN","LYNNE","MABEL",
"MACK","MADELINE","MADGE","MAGGIE","MALCOLM","MALLORY","MARA","MARCEL",
"MARCELE","MARCELL","MARCI","MARCIA","MARCUS","MARCY","MARGARET","MARGO",
"MARIAH","MARIAN","MARIE","MARILYN","MARIO","MARION","MARJORI","MARK","MARLA",
"MARLENE","MARNI","MARNIE","MARSHAL","MARTHA","MARTIN","MARTY","MARTYN",
"MARVIN","MARY","MARYANNE","MARYBETH","MATILDA","MATT","MATTHEW","MATTIE",
"MAUDE","MAURICE","MAX","MAY","MEGAN","MEL","MELANIE","MELINDA","MELISSA",
"MELODY","MELVIN","MEREDITH","MERLE","MERRILL","MERVIN","MICHAEL","MICHELLE",
"MICK","MICKEY","MIKE","MILDRED","MILES","MILLIE","MILTON","MIRANDA","MIRIAM",
"MISSFIT","MITCH","MITCHEL","MOLLY","MOM","MONA","MONTE","MONTGOME","MONTY",
"MOREY","MORGAIN","MORGAN","MORRIS","MYRNA","NANCY","NANNY","NATE","NATHAN",
"NEAL","NEIL","NEVILLE","NICHOLA","NICK","NICOLA","NICOLE","NIGEL","NORBERT",
"NORMA","NORMAN","OLIVER","OLIVIA","OLLIE","OMAR","OPAL","ORSON","OSCAR","OTIS",
"OZZIE","PALMER","PAM","PAMELA","PAT","PATRICIA","PATSY","PATTY","PAUL","PAULA",
"PAULETTE","PAULINA","PAULINE","PEARL","PEGGY","PERRY","PETE","PETER","PHILIP",
"PHYLLIS","PIETER","POLLY","POLLYANN","POMPOM","POWERTRI","PRESCOT","PRESTON",
"PRICILL","PUNKER","QUINCY","RACHEL","RAINES","RALPH","RAMON","RAMONA","RANDALL",
"RANDOLPH","RANDY","RAOUL","RAY","RAYMOND","REBECCA","REBEL","REED","REGGIE",
"REGINAL","REID","RENEEE","REUBEN","REVEL","RHODA","RHONDA","RICH","RICHARD",
"RICK","RITA","ROB","ROBBIE","ROBERT","ROBERTA","ROBIN","ROBYN","ROD","RODNEY",
"ROGER","ROLAND","ROLANDA","RON","RONALD","ROSA","ROSALIE","ROSALYN","ROSE",
"ROSEMARY","ROSS","ROSWITHA","ROXANNA","ROXANNE","ROXY","ROZ","RUBEN","RUBY",
"RUSS","RUSSELL","RUTH","RYAN","SABRINA","SADIE","SALLY","SAM","SAMANTH",
"SAMUEL","SANDRA","SANDY","SARAH","SAUL","SAWYER","SCOTT","SEAN","SELENA",
"SELMA","SHANNON","SHARON","SHAWN","SHEILA","SHELDON","SHERIE","SHERRY",
"SHIRLEY","SID","SIDNEY","SILAS","SIMON","SIMONE","SOCORRO","SPENCER","SPORT",
"STACEY","STACY","STAN","STANLEY","STEPHAN","STEPHEN","STEVE","STEVEN","STEW",
"STEWART","STU","STUART","SUE","SUNSHINE","SUSAN","SUZANNE","SYBIL","SYD",
"SYDNEY","SYLVESTE","SYLVIA","TABITHA","TAMARA","TAMMY","TAMRA","TANYA",
"TAYLOR","TED","TERRENCE","TERRY","TESS","TEX","THEODORE","THERESA","THOMAS",
"TIM","TIMOTHY","TINA","TOBY","TODD","TOM","TONY","TORRANCE","TORY","TRACY",
"TRAVIS","TREVOR","TROY","TY","TYLER","TYRA","TYRONE","VALERIE","VAN","VANCE",
"VAUGHN","VERNON","VICTOR","VICTORI","VINCENT","VIRGIL","VIRGINI","WADE",
"WALTER","WARD","WARREN","WARRICK","WASHINGT","WAYLAND","WAYNE","WENDELL",
"WENDY","WES","WESLEY","WHITNEY","WILBUR","WILL","WILLARD","WILLIAM","WILLIE",
"WILLIS","WILTON","WINSTON","YOURHONO","ZACH","ZACHARY"]