This past week, the company cafeteria was serving a dish labeled "baked penne pasta with quatro formagio". It certainly sounds like an authentico Italiano experience, until one recalls that "quatro formagio" just means "4 cheese". For some reason, though, seeing the dish reminded me of an NES game yet to be played and entered into the database— an unlicensed Codemasters cartridge called Quattro Arcade. Codemasters actually put out a bunch of these Quattro game quartets for various old time systems. In fact, Quattro Arcade is already in the database so I thought this would be a straightforward screenshot recon exercise. No such luck as the NES version has 4 completely different games.
The quality of these old, unlicensed NES games is generally nothing to write home about, so I can't say I'm excited about this experience. However, Codemasters is unique in the sense that they have endured to this day and are still putting out titles. And there is at least one game of the four that I really get into: F-16 Renegade: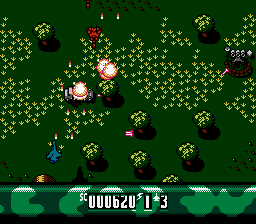 The manual for Quattro Arcade is available online. Wouldn't you know, the authors saw fit to craft long-winded backstories for each of the 4 games. Look, F-16 Renegade is simply a fun, straightforward, curiously devoid of music, shoot-em-up game that alternates between overhead levels, as seen above, and third person behind-the-plane levels: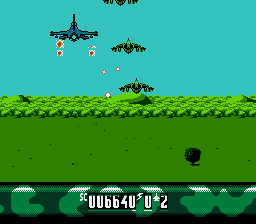 All normal-looking planes (in the air) and normal tanks and missile batteries on the ground. There are powerups that enhance your offensive capability. The curious aspect of this is that the powerups carry over between the 2 different types of levels. And while one strike does your plane in, you only drop one power level when you get your next plane, instead of losing all of your firepower.
I made it to level 6 in this game. I am not sure how many levels there are, but level 4 was called "Rating… talented amateur". So I suspect the game continues for some time.
There is a Dizzy title in this set. Dizzy seems to be a mainstay in Codemasters' early IP repertoire. The game in this set, Go! Dizzy Go! struck me as sort of a bastard stepchild of Pac-Man.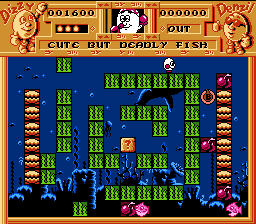 On each map, collect all the fruit. Avoid the threats that are marching about, whatever they may be on this round. I can't get past the idea of seahorses being a threat, but that's just me. You can also push around columns of blocks. Okay, maybe it's a little more reminiscent of a block-based puzzle game, e.g., a Lolo title.
Next up is Stunt Buggies. Drive around in an overhead perspective and collect bombs while enemy buggies work desperately to stop you. You can slow down enemy buggies, apparently by leaving some exhaust.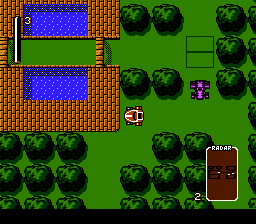 The final game in the quartet is C.J.'s Elephant Antics. The game actually starts in Paris:
It's a side-scrolling game. C.J. must make his way home to Africa, according to the manual. He has an umbrella to slow descents. He can fire peanuts. Also, he can drop bombs. Until that last item, this seemed like an all-too-delightful kids game.