Ohhhh… this is really starting to hurt. Okay, let's go: Quantum Gate. This is — you guessed it — another interactive movie genre video game. This one was published by an outfit called Hyperbole Studios, reportedly all the way back in 1993. They subsequently produced a sequel and yet another title. I wouldn't have expected them to have lasted beyond 1995. But it seems that they were responsible for The X-Files Game as late as 1998. They still have a web presence as of this writing, though the latest date seen anywhere on the site is 2002.
I was going to upload their propaganda video (their term, not mine) to YouTube but screw it; I'm not even going to dignify it. I remember watching this little promotional piece years ago when I first procured the disc. It spoke as if I-movies were going to revolutionalize the industry and that Hyperbole's titles were watershed events in the history of computer gaming. The final insult was when the CEO of the company, one Greg Roach, was named the Steven Spielberg of multimedia (attributed to The Houston Chronicle, in case you ever need to discredit that newspaper).
You might think that given the vintage of this title, I should cut it some slack. Think again. Let's walk through my brief playing experience. There is a short company logo animation followed by the title animation, then the menu shows up. Note that if you ESC through the first two animations, none of the menu options are clickable besides "Quit", which seems to fit right into my plan. Still, I went the long route for the sake of screenshot recon. There is a screen that explains the complex controls. Hint: If the mouse takes the shape of a hand pointing left, you can click the mouse to move left.
Jumping into the start of the game: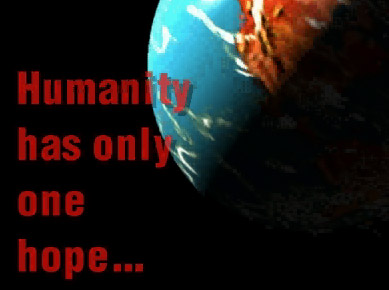 QG, you had better not dare tell me that I'm humanity's last hope. Well, to its credit, the intro didn't actually claim that, but I think it's more or less implied. I mean, what game tells you that some other guy is responsible for the fate of earth and you're just running support?
Anyway, and from what I can put together (it's not the most coherent story), earth is eminently doomed because of pollution — shame on mankind, as always — and the U.N. has a plan to do… something, I'm not entirely sure. You're part of some military group that has to launch through space in a special gate (this might be the game's eponymous gate) to another planet far away. You then attend a poorly managed briefing where someone explains the classified fate of earth. Then, a slightly senior officer explains how it's going to be your job to help secure the planet from the race of bugs that currently inhabit it. Or something.
Look, I'm getting really tired of trying to sort out these bastard stepchild sci-fi stories. Let's move on to characters, who I'm sure the creators were quite proud of. First, there's your character, a military guy — military vanguard or some such — who walks around in a perpetual state of disbelief and whose most common line of dialogue happens to be more or less the same as South Park's Mr. Slave character. Then there's this character: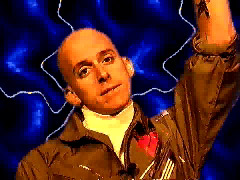 He comes off as a Vin Diesel wannabe, which is strange since Vin Diesel wasn't a star until well after this game was made. He makes life miserable for everyone else in the room with his antics and interruptions. Thing is, his material is, far and away, the most interesting part of the proceedings. I don't really want to spend anymore time on characters. No, wait, here's one more character I always get a kick out of gazing upon– Dr. Scientist Lady, the one who invented the Quantum Gate: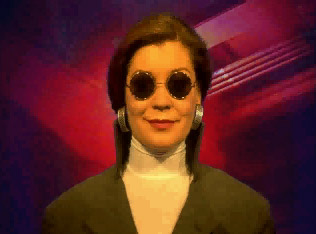 Okay, about those "proceedings" briefly referenced above, I will admit that Quantum Gate has a unique cinematic style while stipulating that different is not always necessarily a good thing. Most of the game (that I saw) showed cinematic sequences (that you can't skip) where there was a wide, letterbox-style picture depicting the people who were presently talking. Video images of that person talking are overlaid on the picture. Sometimes, one video finishes and another video — of the same person — emerges on a different part of the picture and takes over.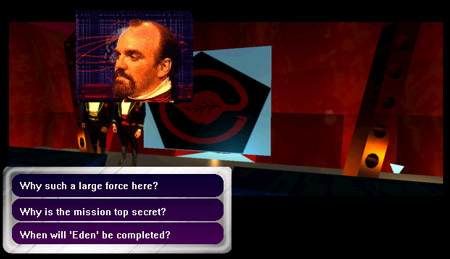 As you can see from the above screenshot, you are occasionally granted the opportunity to have your character interject something. This is apparently of little consequence, but the game throws you an interactive bone anyway. It's also much worse than a screenshot can possibly convey. Imagine the most painful mumbo-techno-jumbo-jargon-packed Star Trek episode you ever watched. Now imagine not being able to fast forward it or even turn off the television.
The whole initial briefing implies that there will be combat with some alien bugs. Eventually, I get to try my hand at a simulation of such combat. The combat consists of a pre-rendered FMV sequence where some vehicle roves across alien terrain looking for the alien bugs and locks on. From there, I have to press the space bar to fire on them. I could never get past the second bug. My loss.
That's it. It's all over for tonight. But as I look at my list of unprocessed I-movies, I already know that I haven't seen the worst yet.