I finally have time to play games again, sometimes multiple games per night if they're really simple and/or bad games. I've still got a bunch of loose ends up on my big whiteboard next to my computer. I want to clean it off completely before proceeding. That means entering a few games that I have heretofore been stalling on, and making sure all outstanding credits are entered.
To that end, I was entering the credits for the Saturn version of Black Dawn when I came across this curious block of names: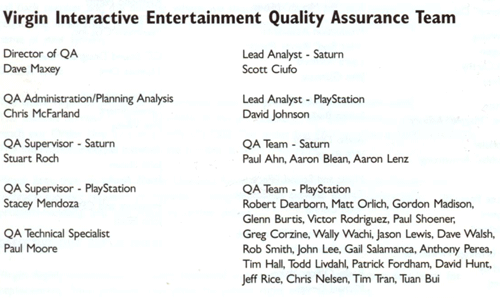 What are we to conclude from the number of Saturn QA staff vs. PlayStation QA staff? Perhaps:
The Black Dawn programmers were much better at programming the Saturn than the PlayStation and the Saturn port did not need as much testing.
The Saturn port simply didn't receive as much love as the PlayStation port and I should not expect Black Dawn on the Saturn to be especially bug-free.
New games in the database thanks to the renewed efforts of this blog: