I feel terribly embarrassed. I bought the wrong high-tech Christmas present for someone. Here's how it happened:
2 years ago, I handed down my old Nintendo GameCube to some relatives and they have been enjoying it quite a lot. I got them Super Smash Bros. Melee as well as 4 GameCube controllers.
In the weeks before Christmas, these same relatives mentioned that they would enjoy having a Nintendo Wii along with Just Dance 3. Lo and behold, I happened to see exactly what they wanted in the store– a bundle that included the Wii and Just Dance 3, and it seemed fairly inexpensive (the whole bundle cost less than I had been seeing regular Wii consoles go for). Since they liked Melee, I also got them Super Smash Bros. Brawl. Since the Wii sports backward compatibility with the GameCube and has ports for 4 GC controllers, they'll have all kinds of 4-player fun.
What Went Wrong?
All told, things went pretty well. They were surprised to see the Wii and associated games on Christmas morning and have been getting plenty of use out of them. However, when I visited a few days later to see how things were going, they reported that the Wii didn't have ports for the old GameCube controllers.
Wait, what?
It turns out that what I purchased was not the original Wii but apparently a newer version called the Wii Family Edition. It looks like this: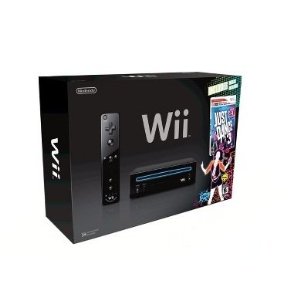 It sacrifices GameCube backward compatibility, both in software as well as controller ports. It only has USB ports now.
Oh well, they can still enjoy the old GameCube and the new Wii separately. I was just disappointed that they won't be able to play multiplayer Brawl until they get some more Wii controllers. Moreover, I felt terribly embarrassed that I am not up to date on current video game technology, particularly Nintendo's offerings, after being a hardcore Nintendo nerd during my teenage years.
All in all, I can't fault Nintendo for this move. This is a standard type of cost reduction method. The Wii is 5 years old now and has more than enough of its own software that it doesn't need to draw from the pool of last generation games to expand on its offerings (it still has Virtual Console for the really old stuff, too). This also reminds me of the top-loading 8-bit NES (for which I paid US$99, used)– that had the interesting cost reduction measure of removing the composite A/V output meaning that you absolutely had to use RF to connect to a TV. Not great, but the console was rock-solid otherwise.
Curiously, the top Amazon search for Nintendo Wii ("Wii Black Console with New Super Mario Brothers Wii and Music CD") is a new-style Wii yet the features still list GameCube compatibility. No, wait– on closer inspection, the "Product Features" bullet list states, "Nintendo GameCube software and accessories are not supported", while further down, the same page has an outdated Amazon.com product description table comparing the current generation consoles. This table features the old Wii and the old capabilities.
Oops.