Here's another game that falls into my "always wanted to try playing" category: Of Light And Darkness, a 3-CD game from 1998. It is most notable for the voice talent of James Woods as some character named Gar-Hob.
Immediately after installation, the game exhibited a trailer for some Interplay-published Star Trek game or another. Who can keep them all straight? I just didn't appreciate the fact that I couldn't find a way to easily skip it once I realized the media wasn't related to the immediate task at hand– Of Light And Darkness.
If I were to have to explain what this game is about, which I suppose I have to, I would claim that it's about the coming apocalypse. You know, end of the world. I am a little unclear about what exactly is bringing about armageddon. There are intonations throughout the game that manmade pollution brought about by manmade greed are to blame. Spiritually, it has something to do with a bunch of apparitions appearing. Perhaps the manmade bad stuff is causing the apparitions to arise, which in turn are bringing about the end of the world. In order to avert this apocalypse, your job is to redeem the apparitions.
Enough storyline. Of Light And Darkness is, in fact, a game in a strict technical sense, complete with actual gameplay and goals. If I didn't understand much about graphic technology and played this game in 1998, I would be absolutely stunned by the imagery on display– extremely smooth and detailed 3D graphics. However, I know better, and I know that this is purely a pre-rendered, FMV-based interactive movie. That said, I can honestly tell you that the graphics are exceptionally sharp and the game is well-produced, even if it is a bit difficult to wrap your head around.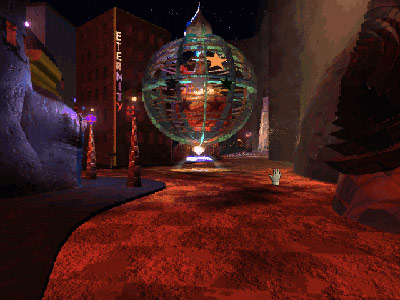 Technically, the game is a bunch of individual pre-rendered FMV files strung together with some control logic and a few item objects superimposed on the proceedings. The FMV files are all MVE files, the sort used in many games published under the Interplay umbrella at the time. Your player is stuffed in a dazzling location. You then move the mouse around. Moving it to the extreme left or right of the screen affects a rotation around the current location. Sometimes you can look up (probably down in certain locales as well). When the mouse pointer icon is moved over certain hotspots it transforms into a pair of walking feet indicating that you have hit upon one of the pre-ordained paths and may move there. When you move to a new location and scan around, sometimes there will be apparition artifacts, or sometimes videos that attempt to explain more of the story, as seen in the screenshot below. Or, more likely, there will be one or more colored orbs, of which a blue example is also seen in the screenshot below: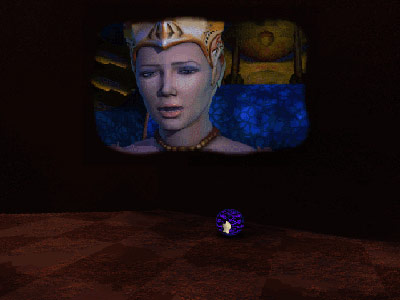 Apparitions will occasionally appear. They don't really hurt you directly (you don't have a power meter in the game). But occasionally you will be accosted by an apparition and the game will notify you that you have 1 minute to dispatch the apparition or armageddon will begin. And you thought you had deadline pressure at work? The way to do away with apparitions is to combine a red orb, a green orb, and a blue orb to create a white orb, and then flash the white orb as a Ghost-B-Gone apparition exterminator. They'll be back. Good thing that orbs are littered around the landscape and keep regenerating.
The decor and color of the game are really madness-inducing, so I think the designers reached their goal in that department. You really get the feeling that the weight of all the world's sins are weighing down on your shoulders, but in a quasi-humorous manner. Like the pride place: There is a theater that represents pride. A pleasant, disembodied, female voice explains in a dispassionate, informational tone what pride is and why it's bad. This sin room will come into play later on in the game, presumably. There are certain junctures where a cacophony of voices is heard snidely reciting financial terms or words associated with money: "Stock market! Dow Jones! Mercedes!" I think this is supposed to have something to do with greed and the badness thereof.
It's a pretty game and I want to like it. But it's tough since I have so little concept of what's going on and exceptionally low regard for the interactive movie genre. It may look like an expansive 3D world but it's actually exceedingly constrained. If there's one feature I can appreciate about the game, it's the fact that moving from one spot to another is very quick, particularly through long tunnels, an exercise that would be tedious in normal 3D games. This type of game makes me wonder how hard it would be to make a replacement game engine on the basic assumption that the engine could not possibly be that complicated. It primarily plays some FMV files, the format of which is well-known and fairly well supported in existing open source software.
One thing I enjoy about this game, and have enjoyed ever since I studied the multimedia files on the discs a few years ago, is a few odd musical numbers from the game, one during the opening credits and one during the ending. This is the intro movie, featuring "Mondo Apocalypso":
The lyrics for that song sound fairly straightforward. I'm more interested to try to figure out what on earth they're saying on the rap during the credits, "F-Death" (starting with understanding what "F-Death" even means):
The first time I heard the song I thought it sounded like Lil' Kim. Of course it's not. Some of the lyrics I'm able to make out include "Everything you know is incorrect, Eugene… you can't collect your underwear, and you stare at your abductors, when they hook you up to electrical conductors and they pull the switch… this could be Roswell…" The chorus sounds like, "F-Death! Party in the ruins!" over and over again. It's all there for your listening pleasure.