It recently dawned on me to scour the local Craigslist listings to search for people who want to get rid of a pile of ancient video games. My first search paid off with an Odyssey2 unit plus 12 games (with one duplicate). Tell me truthfully– this doesn't look too much like a Pac-Man ripoff, does it?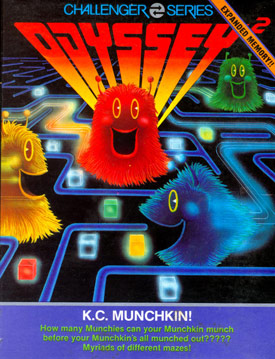 K.C. Munchkin
I was taking it for granted that MobyGames probably already has a full library of all Odyssey2 games. I don't know what made me think so. 6 of these games are still not in the database. This journey just doesn't end.
I received the games in great condition, all with their original boxes more or less intact. An interesting bit of trivia regarding these games is that many of them, if not all, were procured at a store known as Joske's, which was apparently local to Texas and Arizona, and was bought out as of 1987. There are still remnants of price tags on several of the games but it is hard to make out the original prices. I could be very mistaken, but I think the prices read in the neighborhood of $12-$16.