While my study of digital multimedia has often centered on video games, sometimes I have picked up CD-ROMs that are not strictly games in the technical sense (generally meaning that they have no clearly defined goal). I thought that I would make a post about a number of such titles that I have encountered recently.
One is Magic: An Insider's View. This disc is an educational journey through magic illusions hosted by Harry Anderson, star of the old sitcom "Night Court".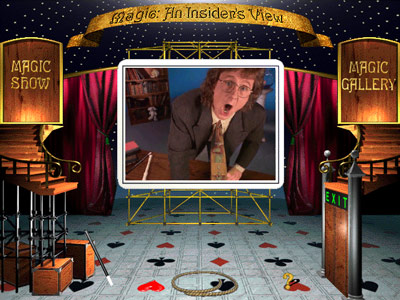 The disc features multimedia instruction on a range of tricks as well as historical tidbits about the craft.
Two other non-game multimedia CD-ROMs I have are Crayola-licensed titles created by IBM: Crayola Vehicle Voyages, which came in a bundle of "Games For Boys", and Crayola Magic Princess Paper Doll Maker, in the analogous "Games For Girls" bundle. These truly are just crayon drawing activities transposed onto the computer monitor. Here is a screenshot from the Vehicle Voyages title: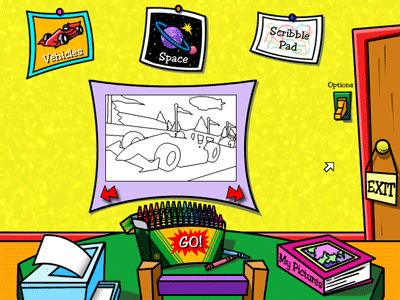 I could not find any gaming elements to qualify it for entry into MobyGames.
Then there are 3 storybook titles. At first blush, these sound like they would be little different than cartoon videotapes. However, according to the instruction book for one title, it is possible to interact with various hotspots on storybook pages which might qualify it for inclusion. I'll know more when I can actually get the games to run. The first is called Little Samurai published under the banner of "Magic Tales: Stories That Magically Come To Life." Unfortunately, it absolutely, positively requires an 8-bit video mode which my video card simply won't provide (16-bit is the lowest it offers):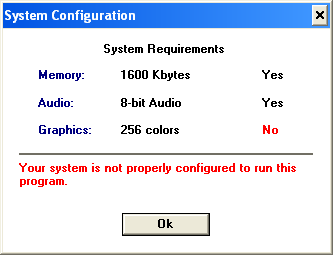 The other 2 books are marketed as "Living Books" and the stories are "Mark Schlichting's Harry And The Haunted House" and "The Tortoise And The Hare." They suffer from a similar problem:

I tried to get them to work under Windows 95/VMware but ran into the old audio driver issue, namely the fact that I haven't figured out how to install one yet on the VMware image.
All 3 titles seem to use some interesting multimedia resource files. Even though one title is published by a different house than the other two, the file formats between them seem to bear some resemblances.