While on vacation, I visited my old hometown, home to 2 of my very favorite video game shops– one shop specializes in consignment PC games and the other is a spent video game shops that even has video games as far back as the Atari 2600. I picked up over 30 CD-ROMs for around $100 (as you may have ascertained by this point, I pretty much buy games by the pound). The games are for DOS, Windows, Sega CD and Sega Saturn. Right now, I'm cataloging them in my master spreadsheet.
Here are some odds & ends that I'm not sure are actual games. One is Steel: Audio Action-Adventure. I couldn't tell if this was supposed to be some kind of game or just an audiobook. Judging by the jewel case copy that states, "Audio adaptation of Warner Bros.' latest action-adventure film introducing a great new super hero with underscore and special 3-D sound effects," it sounded like a straight audio CD. However, it has a QSound insignia on the back which made me think that it might be more than an audio CD. Nope– it's just an audio CD. It's a 35-minute adaptation of the 1997 film (of which I have positively no recollection), retold in 35 minutes. It's sort of like an old-time radio play. I remember having a cassette tape in the mid-80s that gave the same treatment for Return of the Jedi.
The next title I'm not sure about is called Composer Quest. The jewel case copy doesn't explain enough about the game to be judged as a game or not, but the "Quest" in the title certainly sounds promising. The disk contains FLIC files and contains the AAPLAY.DLL file (multimedia nerd trivia). When I run the game from the CD-ROM, it insists that it needs to create a file on the root of C: for high scores– another promising sign!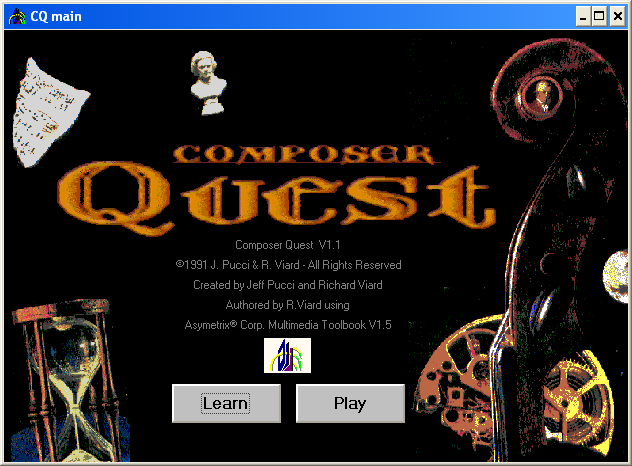 It turns out the CQ is, loosely, a game (look! the title screen has a "Play" button). It is to classical and jazz music what ArtRageous! was to the world of art. I.e., a mini multimedia encyclopedia of classical and jazz composers and music mixed with some games, largely trivia-based.